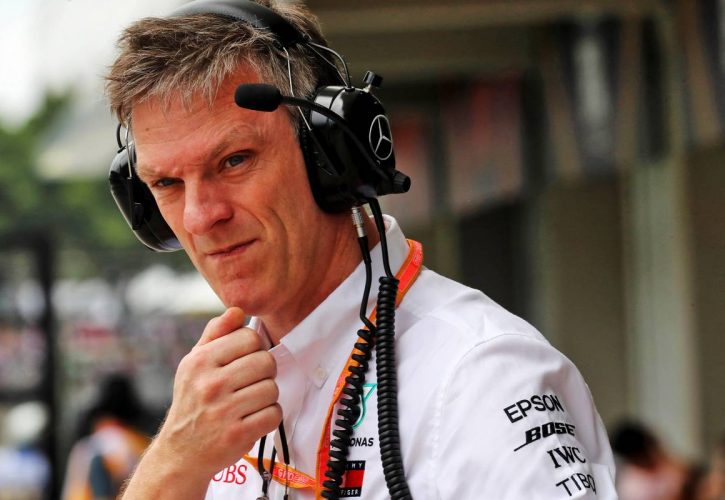 Mercedes technical director James Allison is excited by the prospect of digging into F1's 2021 regulations following the lengthy period necessary to freeze the sport's future rulebook.
After months of talks and negotiations between F1's chiefs, the FIA and the teams, a final 2021 regulation platform was published at the end of last month.
F1 will embark on a new era in a little over twelve months, where the spectacle on the track will hopefully thrill the sport's fans thanks in large part to a significant series of changes to Grand Prix racing's technical rules, with ground-effects brought back to the fore to stimulate more overtaking and better racing.
"You'd be a weird F1 engineer if you weren't excited by having a fistful of new regulations to digest, look for opportunity within and to go off and try and make the fastest possible car you can from them," Allison said, quoted by Motorsport.com.
"So for us, probably the work of the last years and particularly the climax of the last few weeks and months, that's been a bit painful.
"But we're at the point now where it's just the fun bit. You got the pamphlet in your hand and you set to work with it."
To achieve its mandate of producing closer racing and more overtake, Fi has simplified to a large degree the aerodynamic feature of its future rules, with the adoption of simpler wings and the removal of complex bargeboards and their set of convoluted appendices.
But while the objectives are clear, their realization might not be as straightforward insists Allison.
"They have very worthy objectives," said the Mercedes man. "But very difficult, very, very difficult objectives to actually realise.
"I think the proof of that pudding will be in the eating, we'll find out in 2021 how successful the overall package has been in delivering on those very worthy but very difficult goals.
"That doesn't really at this point interest a team any longer. A team just has the regulations in their hands."
Gallery: The beautiful wives and girlfriends of F1 drivers
Keep up to date with all the F1 news via Facebook and Twitter