Lewis Hamilton's upheaval in last Sunday's Brazilian Grand Prix, when the Mercedes driver was unable to keep rival Max Verstappen at bay despite a successful pit stop undercut, has led the Silver Arrows squad to review its energy deployment process.
Hamilton gained the upper hand over Verstappen after undercutting the Red Bull driver on lap 21, but the Dutchman quickly caught up and re-passed the Briton within a lap, much to the Mercedes driver's ire.
"Come on guys, give me the information when my fricking battery's dead. F**k!" quipped Hamilton, in the heat of the moment, suggesting that an energy deployment issue had prevented the Briton from resisting Verstappen's attack.
As he struggled to remain in the wake of his opponent's car, Hamilton informed the Mercedes pitwall that he was getting "massive derates", after which race engineer Peter Bonnington advised his driver to "lift and coast for temps".
Hamilton then questioned whether he had an engine issue, but Bono insisted the process was just to cool his unit.
In Mercedes' post-race Pure Pitwall video on Youtube, trackside engineer Andrew Shovlin explained why the team has now put under review its energy deployment procedure as applied to a pitstop undercut.
"There wasn't a problem with Lewis's battery, as in there was no hardware issue," Shovlin explained. "But we had gone to a deploy mode when we started this undercut sequence.
"So, that's on the in-lap. The power unit starts to deploy energy at a rate that's unsustainable, and it did that over the in-lap and then over the out-lap, and the consequence was eventually that you run out of charge and the car will derate.
"Now, we knew that we had to give it everything to try and be able to make that undercut stick.
"What we'll do this week though is just review whether the way we use that energy was efficient enough, whether we could have done something better to avoid Max being able to overtake us on the line."
After Sunday's race, Mercedes technical director James Allison, who was also the team's acting team principal in Brazil following the absence of Toto Wolff, admitted that Hamilton's final pit stop in the closing stages of the event was "plain dumb".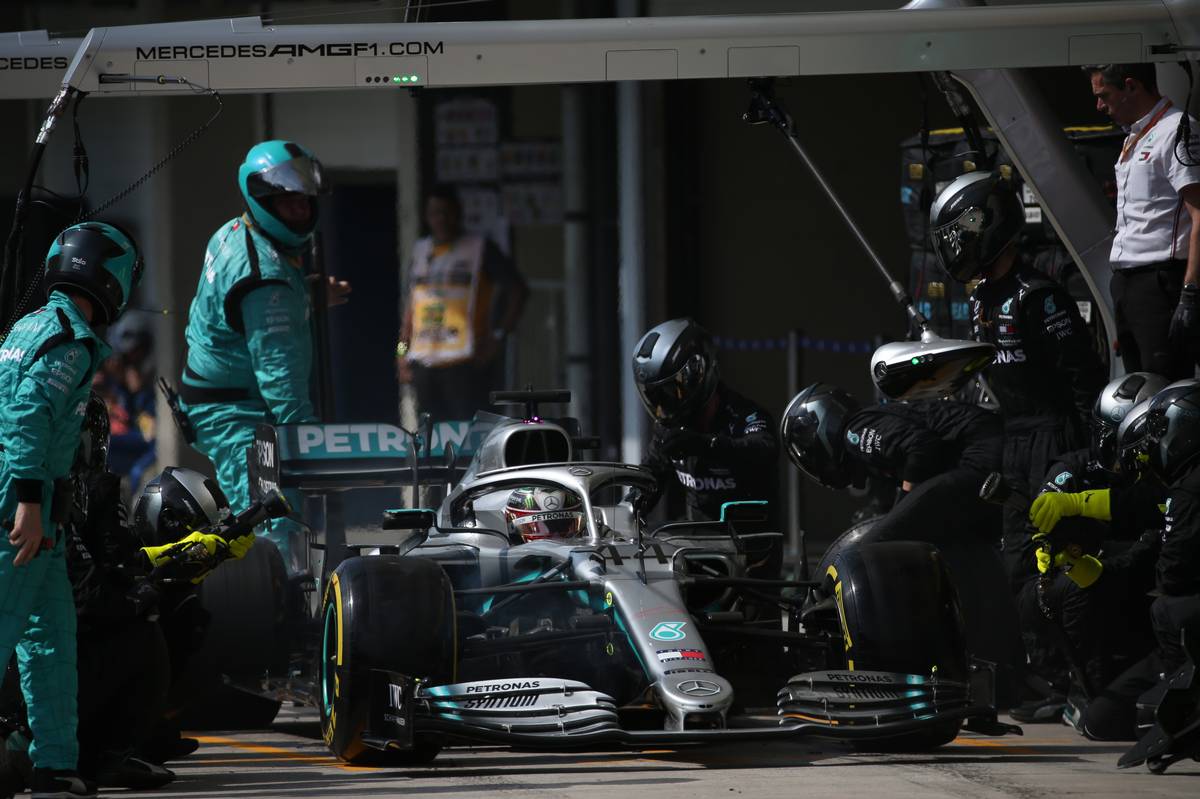 Shovlin elaborated on the ill-inspired strategic decision, insisting it was rooted in a misjudgment of the duration of the second and final Safety Car period.
"When we decided to call Lewis in on that final Safety Car, we had seen that the Ferraris had collided," explained the Mercedes engineer.
"One of them was off at Turn Four and reasonably clear of the track. Vettel was making his way round with a puncture, that was dropping a bit of debris, but we thought he would get back to the pits.
"At the point the Safety Car was called, Lewis was at turn 12, so there wasn't long for us to discuss this decision.
"Subsequent to that, Vettel pulled over before he made it back, although he was reasonably clear of the track, but Stroll unfortunately got taken out by debris from Vettel.
"This meant that the Safety Car period was longer than we might have got away with."
Gallery: The beautiful wives and girlfriends of F1 drivers
Keep up to date with all the F1 news via Facebook and Twitter