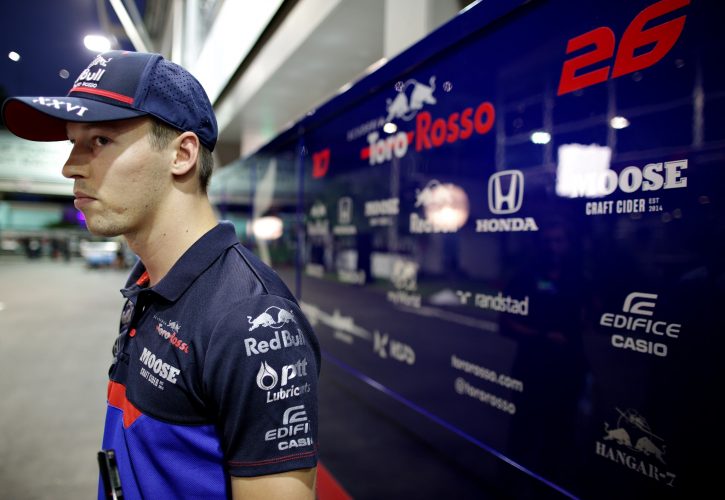 AlphaTauri driver Daniil Kvyat says he's living proof that it's possible to get a second chance to succeed in Formula 1.
Kvyat made his Grand Prix debut in Melbourne in 2014 with Toro Rosso, as one of the fastest rising stars of the Red Bull junior driver development programme.
At the end of his rookie season, he was chosen to replace the departing Sebastian Vettel in the senior Red Bull Racing team. Although he was retained by the team into 2016, a number of mistakes and mishaps at the start of the season saw him abruptly dropped in favour of Max Verstappen.
Kvyat was eventually let go altogether following the 2017 United States Grand Prix, which appeared to draw a permanent line under his F1 dreams.
But the 25-year-old Russian was unexpectedly recalled at the start of 2019 when Daniel Ricciardo's unexpected defection to Renault left Toro Rosso's line-up short handed.
He went on to finish on the podium in Germany and picked up 37 championship points over the course of the season, which initially saw him partnered with Alexander Albon.
"I am very pleased with last year," Kvyat commented to Motorsport.com recently. "It was certainly a good year for Toro Rosso, perhaps the best ever.
"Some races went well, and some are disappointing. That's how it works in the midfield," he added. "I myself was also a much better driver than in my previous years in F1."
Kvyat has been retained by the newly-named AlphaTauri squad for 2020. He suggested that his F1 resurrection offered hope to Pierre Gasly, who started the season at Red Bull only to be swapped with Albon over the summer in a career setback echoing Kvyat's own in 2016.
"I think almost everyone who's come through this team has been very talented," Kvyat suggested. "Some were unlucky with timing, like in my case at Red Bull Racing. It was not the best timing to be in the team.
"Sometimes timing works for you, sometimes timing works against you," he added. "In the end it's all about trying to be patient and doing your job, and being in the right place at the right time.
"I really don't want to talk for Pierre - what happened to him at Red Bull - it wouldn't be right," he continued. "But now of course it's all okay.
"He had a shorter time at Red Bull, and he has a living example in front of him that everything's possible, even if you get dropped from Red Bull.
"It's good that they gave a second chance to both of us," Kvyat offered. "I don't want to give too much deep thought about my current situation or my past situation, it's just the way it happened.
"It happened and I'm pretty happy," he said. "Of course I'm always grateful to Red Bull. They've been very harsh on me, but also very good to me at the same time.
"Hopefully the relationship continues to be very strong," he added.
AlphaTauri is the second team to announce the date of its official 2020 car launch. The unveiling is set to take place on February 14 the week before the first of two three-day pre-season test sessions at the Circuit de Barcelona-Catalunya in Spain.
Team principal Franz Tost said last week that his team should take advantage of having experienced drivers like Kvyat and Gasly, and must set its sights on a top five finish in the forthcoming championship.
"I hope that we will do a step forward there as well and then the target is quite clear," he said.
Gallery: The beautiful wives and girlfriends of F1 drivers
Keep up to date with all the F1 news via Facebook and Twitter