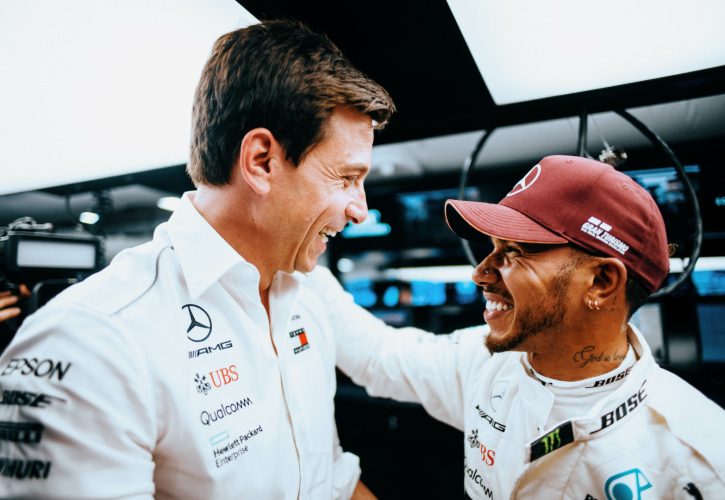 Mercedes boss Toto Wolff is expecting to have his first round of contract talks with Lewis Hamilton at some point this month.
Hamilton is in the last year of his current deal with Mercedes and while there appears to be no doubt about the fact that the six-time world champion will remain an F1 driver in 2021, a courtship by Ferrari could eventually lure the Briton away from the Silver Arrows squad.
Recent rumors suggested that Hamilton and Mercedes had already engaged in talks and that F1's star driver was seeking a $60M plus annual deal with his employer.
But the 35-year-old subsequently denied that negotiations about his future had started, a fact that Wolff has also confirmed.
"The last time we met was at the Christmas party," Wolff told Auto Motor und Sport's Michael Schmidt.
"We chatted a bit about the future. Since then we have only talked on WhatsApp.
"When you're on the go for ten months, it's also important to give it a rest. That's why we decided to leave ourselves alone in December and January.
"When things start again in February, we will sit down and talk."
A final lucrative contract with Mercedes to wrap up his career in Formula 1 seems like a no-brainer for Hamilton. But Wolff insists his driver isn't without alternatives, and neither is Mercedes.
"As a driver of his stature, Lewis always has options," added the Austrian.
"The same goes for us. As long as we build a fast car, we will always be in a situation where we can choose the drivers."
Wolff admits however that negotiating with a man with whom he enjoys a good personal relationship is not an easy task.
"Because we have different interests in this special case," he said. "For example, when it comes to the financial side.
"No matter how hard it was [in past negotiations], in the end there was always a handshake. Lewis wants to drive the fastest car and we want the best driver."
Gallery: The beautiful wives and girlfriends of F1 drivers
Keep up to date with all the F1 news via Facebook and Twitter