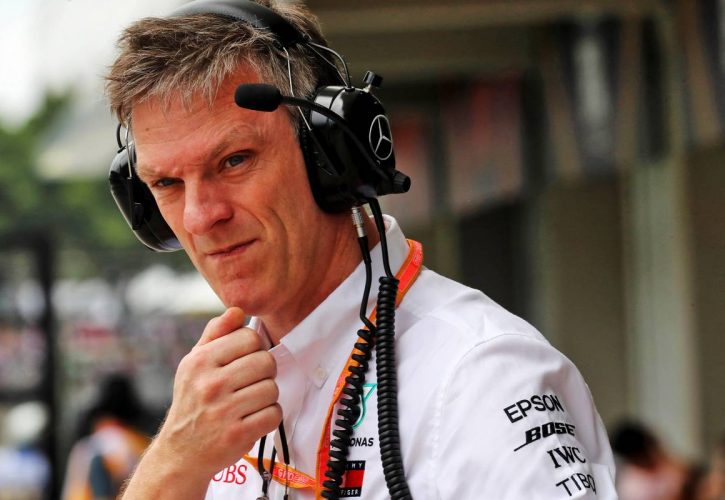 Mercedes technical director James Allison described his experience of joining the German outfit in 2017 as one that helped him feel a sense of normalcy in a life turned upside down by the loss of his wife the year before.
Allison was at the head of Ferrari's engineering department in 2016 when his wife Rebecca unexpectedly died of meningitis in April.
The tragedy compelled Allison to spend more time in the UK with his three children, the British engineer eventually departing the Scuderia over the summer.
Allison returned to F1 at the start of 2017, accepting Mercedes' offer to replace the departing Paddy Lowe as the Brackley's squad's technical director.
Getting back to work was a remedy of sorts for Allison who found at Mercedes the "warmhearted" environment he so desperately needed to resume his professional career.
"I was something of a wreck at the time," he remembered, speaking in an interview posted on Sunday on on the team's YouTube channel.
"I am still grieving today four years on, but then I was crying in the car on my way into work and crying on my way home.
"I hoped that I would be useful at work and find my feet again to be able to carve out some sort of world for myself after Becca dying, but it was more of a hope than a certainty.
"One of the things I feel particularly grateful to Mercedes for is that in a part of my life when everything was turned on its head and where nothing felt normal, the most familiar part of it was my work because there the rhythm of the racing season, the pressure to get a car out, the pressure to develop it, the thrill of winning, the challenges the season throws your way, all those things felt familiar and they were about the only parts of my life that did.
"I was very, very fortunate to be granted a place in a team that is extraordinarily warm hearted and with a group of people who didn't need me but nevertheless opened their arms to me.
"They made me feel welcome by providing me with a space to work and created an environment for me where I could be useful and where I could breath and recover while having the most enviable and brilliant job in the whole pitlane."
As he recalled his debut at Mercedes, Allison admitted feeling "intimidated" at first by the prospect of working for the Silver Arrows team, a sentiment that sat alongside his personal troubles.
"It was intimidating and I think anxious is the wrong word but I certainly knew that I needed to be performing well in order to have an impact on the place," Allison said.
"It was anxiety-making or intimidating in a couple of ways.
"The first is it was a team that had already dominated the sport for three years running and it was a team full of engineers of the highest calibre."
Allison's indisputable level of expertise certainly added value to Mercedes, although the always modest Briton didn't see it that way.
"It was a very settled team with professionals in every level of the team who absolutely knew their job. Arguably they didn't need me!
"They would have gone on to great things without my arrival at all and I was conscious that when I walked through the door for the first time that I was walking into a team that I hoped I could play a part in, but that team would definitely be blisteringly strong whether or not I showed up."
Gallery: The beautiful wives and girlfriends of F1 drivers
Keep up to date with all the F1 news via Facebook and Twitter