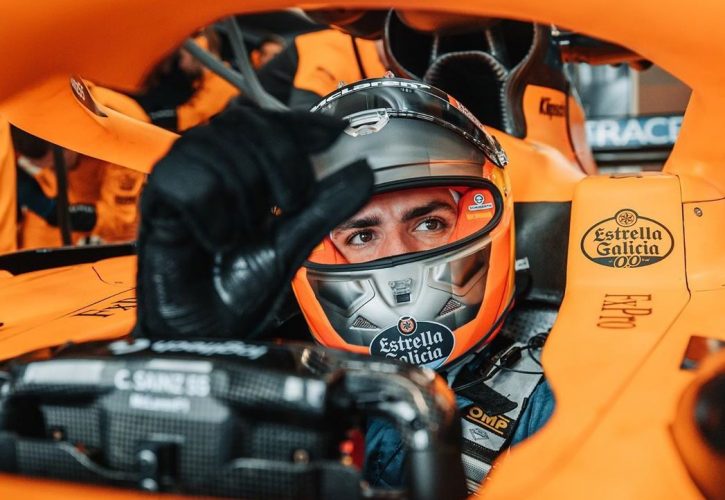 McLaren's Carlos Sainz singled out two specific periods in F1's recent history in which he wished he could have raced.
In a Q&A with his fans posted on his YouTube channel, Sainz was asked how far back in time he would travel to race in his favourite F1 era.
Formula 1's smooth operator suggested a rather short journey when he first selected the years 2007 and 2008.
"It's a tricky one," he said as he pondered the question. "I would say either 2007/2008, when for me there were the most beautiful F1 cars.
"I loved the championship where Lewis went against Fernando (Alonso), then went against Felipe (Massa). The cars were beautiful also in 2006 and by talking to Fernando he told me how cool those cars were and all that…."
But Sainz also chose another favourite period, even more recent.
"I would also choose 2012/2013 because the competition was much tighter than what it is now. There were five or six different winners in different races, something like that…" he added.
"Many people were fighting for a championship and I think that's what Formula 1 is missing right now.
"All the constructors - Sauber, Williams fighting for wins, McLaren, obviously Ferrari, Mercedes - they were all fighting for wins."
Among his fans' many questions, one required the 25-year-old to name a circuit currently not on the F1 calendar that he would like to race at, and the answer proved that Sainz is embedded with a good amount of old-school F1 DNA.
"I would like to race at Macau," he said. "I mean it's not feasible in a Formula 1 car, but I miss racing there once a year like I did in Formula 3
"But apart from that, the Nordschleife, but obviously it's not feasible either. I do miss a bit the Nürburgring, I think it was a great race track.
"I would need to think about that one a bit more, but Macau would be my first choice."
Check out below Sainz's full Q&A sequence on YouTube.
Gallery: The beautiful wives and girlfriends of F1 drivers
Keep up to date with all the F1 news via Facebook and Twitter