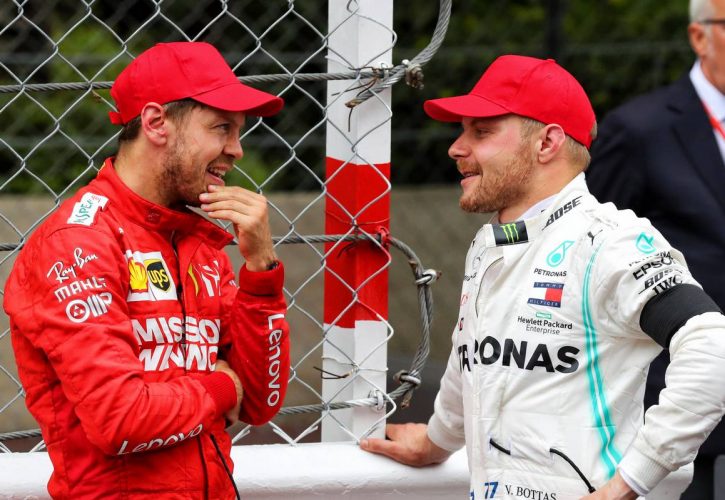 Valtteri Bottas laughed off speculation that he could be replaced next year at Mercedes by Ferrari's Sebastian Vettel, the Finn insisting he felt "no stress" over his future in F1.
The announcement of Vettel's exit at the end of this season triggered conjecture around the four-time world champion's next move.
Mercedes boss Toto Wolff admitted that Vettel was considered as a candidate for a seat at the Silver Arrows squad , albeit one with only an outside chance as the German outfit's current priority is with its current line-up with the contracts of Lewis Hamilton and Bottas expiring at the end of 2020.
"We've been very honest also with my team all the time, what's the situation, and how it's going to be contract-wise," Bottas told Sky F1.
"I got a pretty straight message that no, they are not considering Seb, so I said fine, no worries then."
Bottas said that dealing with his future in the current context was just par for the course as far as he was concerned.
"It's the same as every year for me," he added. "It's no different in any way than any other season for me.
"There are always talks, and the situation has been the same for me. I find it quite funny with not even a single race done, there's been people getting my seat.
"It made me laugh a couple of times. There's no pressure from that side, because I still have my clear goal for the season in my mind, and that's it.
"Things will then sort themselves, one way or another, whatever is going to happen. I have no stress about that at all."
While Bottas will start his 2020 campaign next month with a relative peace of mind, things could heat up over the summer once Hamilton and Mercedes agree terms on the Briton's future.
Recent comments by Wolff suggesting the Brackley outfit is already considering succession plans with regard to who will take over from Hamilton inevitably call into question Bottas' future.
Many believe Mercedes protégé George Russell will step up to the championship winning team next year while one will remember that Esteban Ocon, while racing for Renault this year, remains contracted to Mercedes.
F1's game of musical chairs sparked by Vettel and Ferrari may rev-up once again over the summer.
Gallery: The beautiful wives and girlfriends of F1 drivers
Keep up to date with all the F1 news via Facebook and Twitter