Willi Weber, Michael Schumacher's former manager, says the F1 legend's decision to return to the F1 fray in 2010 was "stupid" and rooted in boredom.
After an outstanding career in Grand Prix racing marked by 91 wins and seven world titles, Schumacher sailed off into a posh retirement at the end of his final season with Ferrari in 2006.
After consulting for the Italian outfit for several years and indulging in amateur motorcycle racing, Schumacher was convinced by Mercedes - guided at the time by former Ferrari strategist Ross Brawn - to return to F1 in 2010.
While many, including Weber, attempted to dissuade the German from returning to the grid, he ultimately followed his heart and signed a three-year deal with the Silver Arrows squad.
However, apart from a single podium finish in Valencia in 2012, there was little to show for Schumacher's efforts when he retired permanently from the sport at the end of that year at the age of 43.
"Let's say, this was, even in hindsight, the stupidest thing he could do," Weber told Motorsport-Total.com. "He told me he was bored, he had to drive.
"Then I say, 'Michael, what do you want? You can only lose. You can't win anymore. You won everything. You are the best racer in the world. You stand on the highest pedestal that exists. You can only lose now.'
"But, he just didn't want to hear it."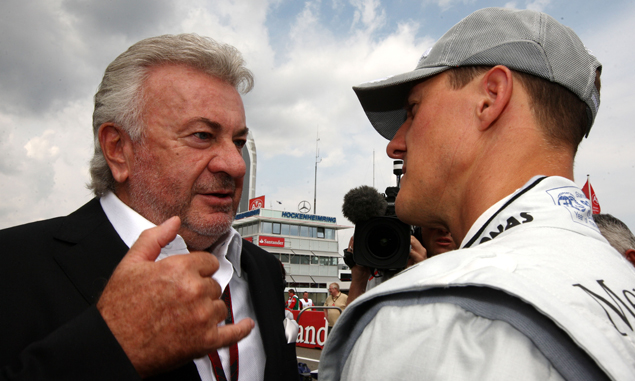 Such was Weber's negative stance on his protégé's undertaking that he refused to be a part of the endeavour. But Schumacher remained determined to fulfill his comeback ambitions.
"After the years of being in Formula 1, I didn't want to pack more suitcases, didn't want to have jet lag anymore, didn't want to sit on the plane for 24 hours. That was all too much for me," he said.
"I imagined all this and offered him that I would not take part in overseas races, but I would take care of him in Europe.
"Then he kept coming back and saying, 'Willi, I thought about it, I'm doing it on my own. I'll do it all myself.'
"I said, 'Michael, that's a huge mistake, too. Let it be!' 'No, no, I'm doing that. If you don't go along, I'll do it myself.' "
The two men parted ways, but remained friends. And Schumacher's failure to win again in F1 was no consolation for Weber.
"I wished him the very best there was," he said. "But I also knew it was going to go wrong."
Gallery: The beautiful wives and girlfriends of F1 drivers
Keep up to date with all the F1 news via Facebook and Twitter