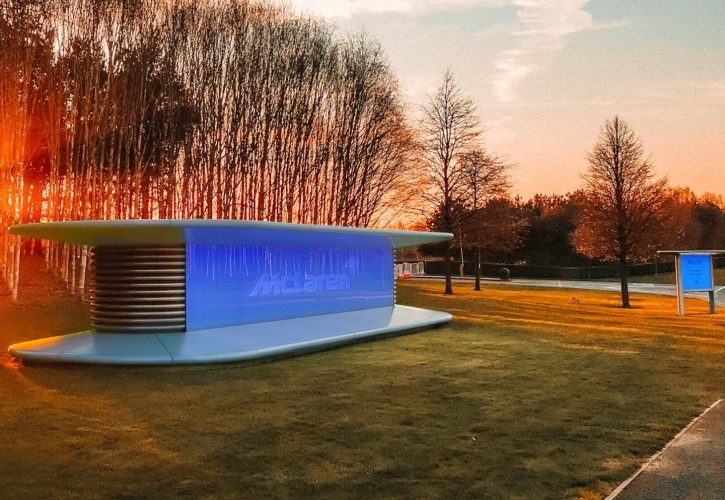 The McLaren Group has asked a court to allow it to use its factory and heritage collection as collateral for a new loan aimed at stemming "severe and unexpected" financial difficulties.
The automotive company, which includes McLaren Racing, has been legally challenged by a group of creditors who contend that the McLaren Technology Center and its heritage collection are already employed as security in a bond offering dating back to 2017, according to a report from the BBC.
McLaren's global sales have collapsed since the onslaught of the coronavirus crisis, while McLaren Racing's revenues have also been severely impacted by F1's disrupted season.
According to court documents, McLaren shareholders injected £291m into the business in March of this year to fund its initial business plan and keep the company going in anticipation of the COVID-19 crisis, while a £130m credit line has been fully drawn for the company to borrow money.
To keep itself afloat amid the economic downturn and an "impending liquidity shortfall", McLaren is seeking another loan from investors of £280m, with funds to be provided "no later than July 17".
However, the initiative is being challenged by several creditors of two previous notes who believe that McLaren cannot pledge its factory and heritage collection, claiming it would be unlawful for the Security Agent to release the Transaction Security for another bond offering.
"Indeed, they have recently threatened to sue the Security Agent for breach of duty if the release sought by the Company is granted," said McLaren in court documents.
"This threat has placed the Security Agent in an invidious position and has jeopardised the Company's urgent efforts to raise new money."
McLaren's legal action this week is therefore destined to convince the High Court that it can use the assets in question as collateral.
"The scale and impact of the pandemic quickly became apparent to the senior management of the (McLaren) group," McLaren stated.
"The pandemic has had a massive and detrimental effect on the group's trading performance.
"The start of the F1 season has been delayed. Car dealerships have temporarily closed; supplies have been interrupted; manufacturing has been suspended or impeded; customer orders have declined; sponsorship revenues have fallen and additional costs have arisen from health and safety measures.
"Whilst the Group has sufficient liquidity to meet its obligations as and when they fall due in the very short term, further liquidity is required to be made available by no later than 17 July 2020."
Time is therefore pressing for McLaren which has devised a series of  proposed transactions to fend off its cash flow troubles, including a sale and lease-back of its properties, and a sale of its heritage collection to a newly created McLaren Group subsidiary which could then independently apply for an asset-back loan.
However, by refusing McLaren's proposed transaction, the group fears the group of creditors is "seeking to create a situation in which the Group has no choice but to accept their alternative financing proposal (on terms dictated by them), regardless of the impact on the Group's other creditors and its stakeholders."
As a reminder, it was reported last week that McLaren is considering selling equity into its racing operations to help the entity secure its future.
McLaren Group's current shareholders include Bahrain sovereign wealth fund Mumtalakat which owns a 57% stake in the company, historic shareholder Mansour Ojjeh who owns 14% and Canadian businessman Michael Latifi how holds a 10% stake, with the remaining 20% in the hands of various minority shareholders.
However, it was revealed on Monday that Mansour Ojjeh had resigned McLaren's board of directors, relinquishing his seat to his 29-year-old son Sultan as the Ojjeh family's stake in the Group remains intact.
Gallery: The beautiful wives and girlfriends of F1 drivers
Keep up to date with all the F1 news via Facebook and Twitter