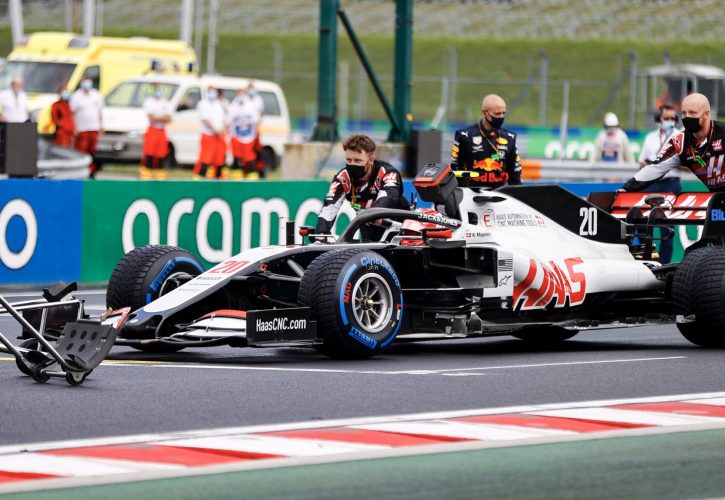 Kevin Magnussen and Romain Grosjean have been handed a 10-second time penalty by the Hungarian Grand Prix stewards following Haas' infringement of F1's driver aids rules.
The sanction demotes Magnussen to P10 but keeps the Dane in the points while Grosjean gets pushed back from P15 to an inconsequential P16.
Haas instruced both its drivers into the pits at the end of the formation lap before Sunday's race as part of a bold strategy call which consisted in swapping the intermediates tyres for the medium compound on both drivers' car.
The gamble paid off big time for Magnussen who ran as high as third but ultimately finished 9th.
However, after the race a team representative was called to the stewards to explain the team's action which was seen as a breach of Article 27.1 of the F1 sporting regulations, which states "The driver must drive the car alone and unaided".
The stewards frowned upon the team's action to instruct both drivers to pit for slick tyres at the end of the formation lap.
"Having considered the matter extensively, the stewards determined that the team instructed the driver to pit," they stated.
"The team could not prove that one of the exemptions made under paragraph A. 2. a) to g) of the Technical Directive 011-17 was applicable.
"Therefore, the stewards consider there is breach of Art. 27.1 of the Sporting Regulations, that the driver must drive the car alone and unaided."
In hindsight, Haas should have either encoded the call, a common practice in F1, or entrusted its drivers to make the call on their own and subsequently pit for a tyre swap or head to the grid per the normal procedure.
Gallery: The beautiful wives and girlfriends of F1 drivers
Keep up to date with all the F1 news via Facebook and Twitter