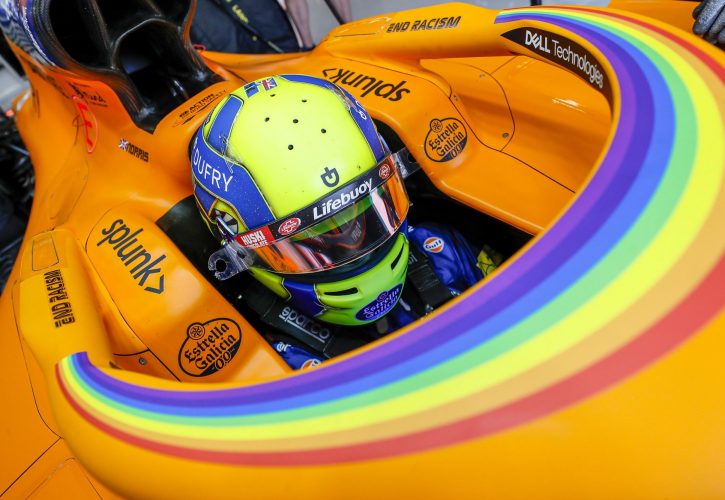 A frustrated Lando Norris says he came up short by one lap in his bid to snatch sixth place from Red Bull's Alex Albon in Sunday's Belgian Grand Prix.
Norris carried all the hopes of the McLaren team at Spa after teammate Carlos Sainz was deprived of a race start after his engine suffered an exhaust failure on his way to the grid.
After a difficult start, Norris drove a steady race from 10th to conclude his afternoon 7th, but a sixth-place finish was on the cards until he was beaten by the clock.
"One more lap and I would have had Alex," said the McLaren charger. "I don't know if I would have had Esteban. I think [the Renault's] pace was much better than yesterday, shown by Daniel.
"I think the only reason I caught [Ocon] was when he got a bit stuck behind Albon. But yeah, one more lap would have been lovely!
"I would have been quite confident I'd have got past Alex; he was struggling a lot, so a little bit frustrated from that side, but I think the rest of the race was good. I was reasonably happy."
Norris dropped a spot to AlphaTauri's Pierre Gasly on the opening lap of the race before making up the lost ground and sparring with Racing Point's Lance Stroll while also contending with his MCL35's inevitable tyre wear.
In the end the young Briton felt he had "made the best of a bad job".
"We started off not so good – Lap 1 and the first stint was tough for me," he explained. "I was struggling a lot with the confidence in the car and the tyre wear and everything.
"But the second half of the race, the weather changed a bit, cooled down, the wind died down a bit and we came into our strengths a bit more, and then I could push and managed to have better pace than Stroll and catch the other guys at the end… It's just a shame I was one lap short!
"So a bit up and down, but it's more points than nothing – especially because as a team, it wasn't the best day for us with Carlos not even starting and Renault scoring a lot of points.
"So not ideal, but we made the best of a bad job."
Gallery: The beautiful wives and girlfriends of F1 drivers
Keep up to date with all the F1 news via Facebook and Twitter