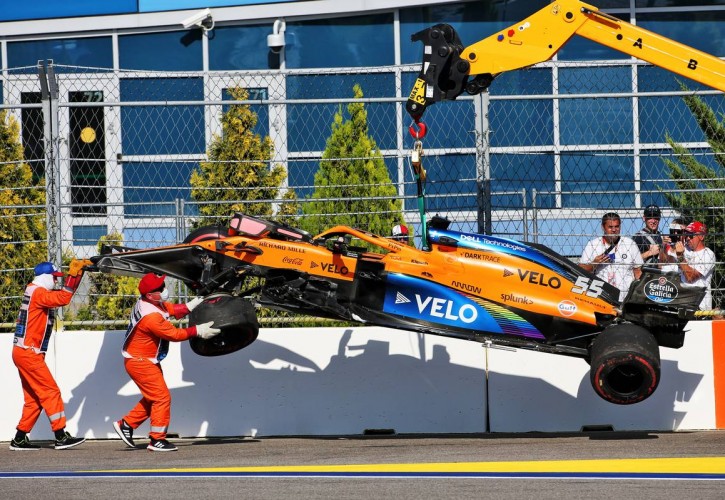 Carlos Sainz blamed himself for crashing out of Sunday's Russian Grand Prix on the opening lap of the race, but the Spaniard believes the profile of Sochi's Turn 2 contributed to his demise.
Sainz was jockeying for position in the midfield after the start and ran wide at Turn 2, forcing him to run in between two bollards - as the rules require - before returning to the track.
But a slight misjudgment by the Spaniard resulted in the McLaren heavily hitting the wall, its front-left corner destroyed, an incident that triggered the deployment of the safety car.
Sainz held himself accountable for the mishap, but also criticized the profile of Sochi's Turn 2.
"Unfortunately in Turn 2, I had someone on the inside, and I ran a bit wide," he explained.
"By the time I decided to go around the bollard, I went around the bollard with a very, very narrow angle, and I misjudged my entry speed around the bollard and hit the wall pretty heavily. A misjudgment by my side, a mistake.
"I still think that corner shouldn't exist. It's not a very nice corner to drive around, and it generates these kinds of situation. But I just misjudged it.
"It's still not a corner that is well designed. You saw today in the race just how many people are missing that apex, and having to go around the bollards, destroying the bollards, it's clearly not a great corner."
Haas' Romain Grosjean pulverized one of the bollards in the race while Renault's Daniel Ricciardo failed to pass through the markers after also running wide, a mistake that warranted a five-second penalty.
McLaren team boss Andreas Seidl lamented the fact that Sainz's crash led to consequences for Lando Norris who was forced to back off to avoid his stranded teammate while also picking up debris.
But the German had a clear-cut view on the Spaniard's plight.
"Carlos said it himself with the angle he was approaching this slot, he misjudged, and that was the reason why he touched the barrier," Seidl said.
"So then it was his fault. I think it would be wrong now to blame anyone else or anything else.
"Obviously it ended our race for both cars, unfortunately, because Lando had to back out and was last after the first lap.
"And then there was nothing left to lose. So we boxed through safety on to the hard trying to simply survive and hope for something else happening like another safety car which didn't work out.
"Very disappointing to go away from here with zero points, because I think we were up for again good points."
Gallery: The beautiful wives and girlfriends of F1 drivers
Keep up to date with all the F1 news via Facebook and Twitter