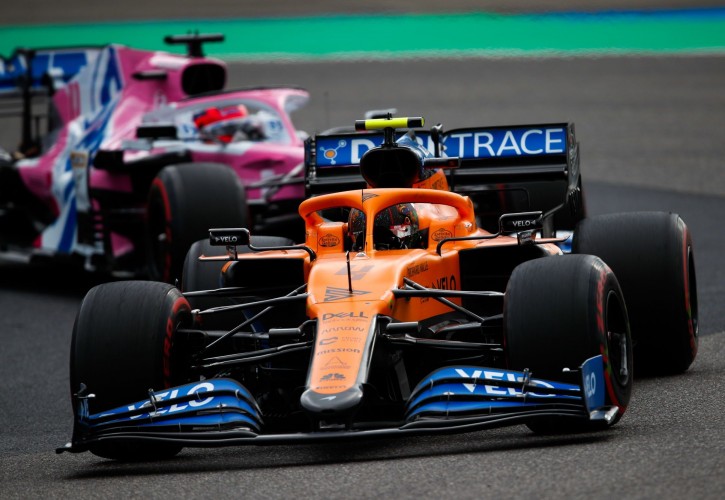 McLaren says the engine failure that sidelined Lando Norris in Sunday's Eifel GP was the same issue suffered by Carlos Sainz at Spa earlier this year.
Norris was enjoying a solid drive at the Nürburgring, running as high as third when the Briton reported a sudden loss of power.
The McLaren pitwall responded by urging its driver to follow a 'Default 03' command to exit the engine's protection mode, to no avail unfortunately as Norris frantically repeated the order, later joking that he had gotten cramps from pressing the buttons so many times.
Unable to override the power unit's protection mode, the McLaren driver was left with no other choice but to park his car, its rear bodywork slowly starting to consume.
McLaren team boss Andreas Seidl believes the issue that impacted Norris' Renault engine was the same ignition glitch that sideline Sainz on his way to the grid in Belgium.
"It looks like the same issue that we experienced in Spa on Carlos's side," explained Seidl.
"So what happens here in the end is that there's an issue on the ignition side, which is causing unburned fuel going into the exhaust. And then it goes 'kaput'.
"We tried to get out of this, let's say protection mode the engine goes in when having such an issue. But unfortunately, it wasn't possible because the problem was constantly there then.
Seidl lamented the setback as Norris was on track for a top-four finish and perhaps even a poduim.
"Obviously it was very disappointing because we were with Lando in a very good position in the race. He was running with P4 on a different strategy compared to Daniel [Ricciardo], and he was actually catching him.
"So it would have been interesting how that would have played out with the different tyre life towards the end of the race.
"So very disappointed by that, because it was good to see that he had good pace in the race to fight with our main competitors."
Gallery: The beautiful wives and girlfriends of F1 drivers
Keep up to date with all the F1 news via Facebook and Twitter