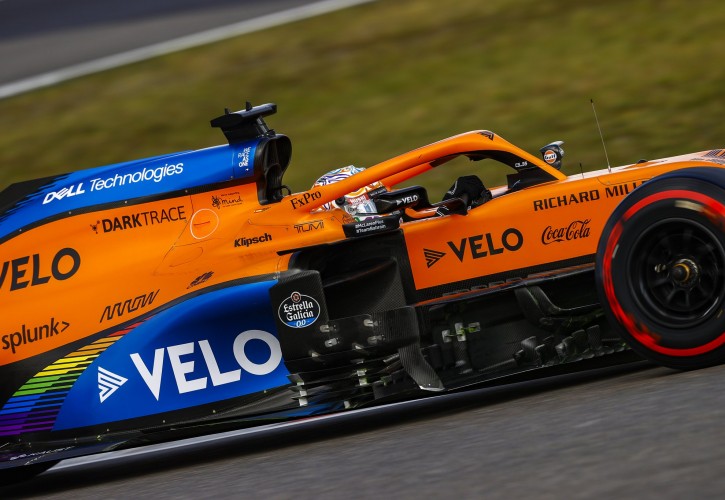 McLaren's Carlos Sainz admitted his run to fifth in Sunday's Eifel GP had left him a little "out of place", the Spaniard struggling once again to get to grips with his car's new updates.
After Lando Norris raced the revised MCL35 in Russia, Sainz was the recipient in Germany of McLaren's new nose and upgrade package.
But from yesterday's single free practice session to today's race, Sainz felt at odds with a car whose performance - in his view - did not equal that of its previous specification.
As a consequence, the McLaren driver was unable to take the midfield fight at the Nürburging to his Renault and Racing Point rivals.
"It's a fifth place that tastes good because it's 10 points, but when you're suffering in the race for 60 laps, you end up a little out of place," Sainz told Spanish TV station Movistar.
"I'm not very happy, actually. It is a fifth place that tastes little when you see [Daniel] Ricciardo and [Sergio] Perez ahead [fighting for] on the podium, and that we have missed an opportunity to fight for that podium.
"With the car I had today I couldn't fight for the podium, but maybe with the one I had two races ago, maybe I could."
Sainz was reluctant to offer too much detail about the issues impacting the handling of McLaren contender but hinted at excessive front tyre wear and graining.
"We had much more graining than the rest," he said. "The car goes a lot from the nose and that costs you more degradation.
"But I hope this will serve to get 60 laps of analysis, data and go back to the factory to investigate what is in this new package that does not just give me a good feeling and does not give us the sensations and performance we expected."
Sergio Perez's P4 finish in the Eifel GP coupled with super-sub Nico Hulkenberg's run in the points has allowed Racing Point to leap-frog McLaren for third in the Constructors' standings while Renault is now just two points adrift.
Sainz admitted McLaren will need to put its thinking cap on to figure out how it gain regain the upper hand over its rivals.
"There is going to be a lot of thinking process going into the next couple of weeks to decide what we do with the car, what upgrades we decide to keep, how we develop this car," he said.
"Because at the moment, Renault is two tenths quicker than us, racing Point is one or two tenths quicker than us and that means if we want to finish higher in the championship we need to find a bit [of time]."
Gallery: The beautiful wives and girlfriends of F1 drivers
Keep up to date with all the F1 news via Facebook and Twitter