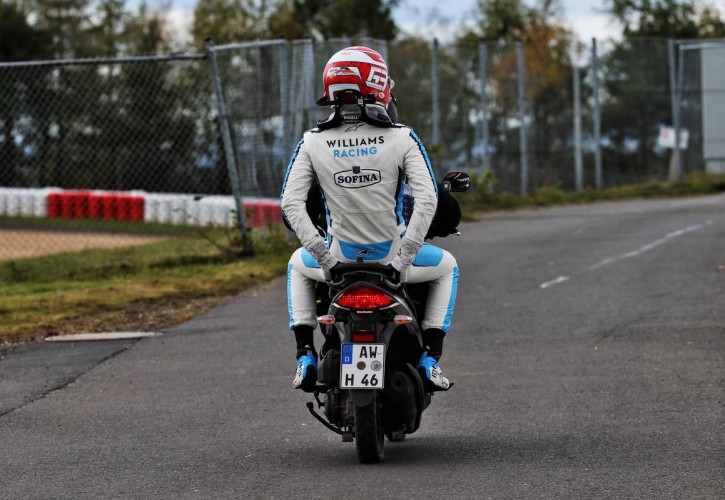 A frustrated George Russell lamented his early demise from the Eifel GP at the hands of Kimi Raikkonen, insisting that points were on the cards for Williams without the race-ending clash.
Russell was sparing with Ferrari's Sebastian Vettel on lap 12 in the wake of the German driver's spin a few laps earlier.
Vettel overtook the Williams on the run into Turn 1, but Raikkonen who was following both drivers veered into Russell's path and hit the Briton, almost sending the Williams head over heels, but inflicting permanent damage to the FW43.
Raikkonen was hit with a 10-second time penalty and handed two penalty points on his licence, but the stewards' verdict was no consolation for Russell.
"It was obviously frustrating," Russell said. "I actually overtook Sebastian in the chicane before, but he then got the run on me on the exit, which I don't think was shown on the TV.
"[That] allowed him to have the DRS and obviously Kimi was behind. I was on the outside, I left plenty of space. But I think Kimi just locked up behind Sebastian and then lost the rear.
"Sometimes it's racing, we're all pushing hard and it's not easy sometimes. But it's frustrating because the car was feeling good and the way the race went, I think we could have scored points. It's all going against us at the moment unfortunately."
Russell admitted to becoming frustrated with his inability to catch a break, but the 22-year-old would rather have a faster car than rely on luck to make into the top ten on race day.
"I'm realistic and as nice as it would be to score a point or two or three, ultimately the car is not quick enough," he said.
"We need to continue to work really hard to bring more performance to the car because we don't want to be lucking into these events, we want to be there on merit. And ultimately that's where we are at the moment.
"The likes of Haas and Alfa, things have just gone their way really in these races. They are no quicker than us and I don't personally believe they've done anything better than us, things have just gone their way when there's been these very specific opportunities and it hasn't for us.
"There's been a number of times when we've had really good races and finished quite high up the order relatively but there haven't been five midfield cars break down which is the difference between scoring points or not."
Gallery: The beautiful wives and girlfriends of F1 drivers
Keep up to date with all the F1 news via Facebook and Twitter