Nico Hulkenberg was thrown in at the deep end at the Eifel GP last weekend, but the German driver says his last-minute call-up was more like a plunge "into an ice bath".
Hulkenberg's on-the-spot performance with Racing Point at the Nürburgring was unanimously applauded by the F1 paddock.
It was the third time this season that the Hulk filled in for a Racing Point driver, having replaced Sergio Perez at Silverstone's double-header earlier this year.
But the circumstances surrounding his tardy draft in Germany, marked by a crucial lack of track time, left F1's super-sub with an even higher wall to climb last weekend.
"I had the Silverstone experience in the back of my mind and it was the same team, basically the same car, but something had changed since my two outings at Silverstone," Hulkenberg told Auto Motor und Sport.
"It's a different racetrack. Straight into qualifying, it's not a jump into the deep end, it's a dip into an ice bath!
With just a handful of laps under his belt on Saturday afternoon, Hulkenberg qualified last. A predictable result according to the German.
"It was clear to me from the start that I would not get past last place on the grid. Anything else would have been a miracle.
"I was very happy with the lap time and the improvement in the four laps that I had.
"I tripped up at the chicane. I could have beaten Kimi [Raikkonen]. It was a huge task. You either have to do it or you don't. And when you do, don't think a lot, just act and react."
In addition to the challenging circumstances, Hulkenberg also had to adapt to a car that had significantly evolved since Silverstone.
"Something had changed in the steering," he said. "It was a completely different feeling than at Silverstone, the steering speed was also different, so I first had to adjust to it. It takes a couple of laps to acclimate."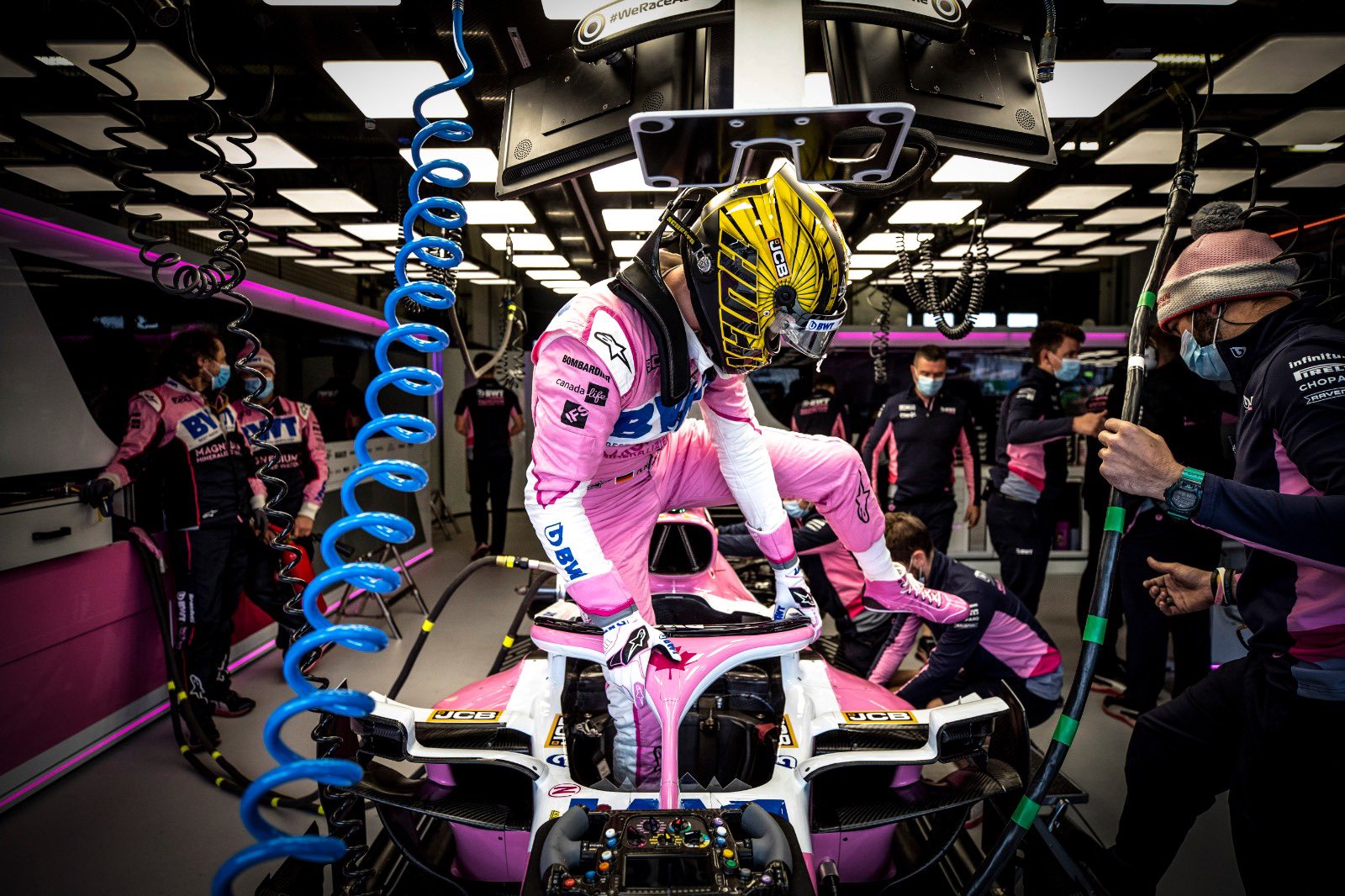 Racing Point's stand-in also had to contend with some last minute drama on the grid when he put his car in the wrong engine mode just before the start!
"Usually, after the burnouts, you go into the run position, but it's two positions [on the dial]," he explained. "And after the burnouts I just did one, so I was in a kind of no energy mode.
"I noticed and I had to flip it quickly. It didn't cost me anything, but it was just not a great start, not a great drive out!"
Hulkenberg's race into the points was a fairly straight-forward affair which he started cautiously before he gradually upped the pace, sparring with his rivals and executing a few impressive overtakes.
"It was all very busy with people locking up wheels," he explained. "We said before the race that I wanted to stay well out of trouble and just stay away.
"Obviously you don't want the race to end on lap one, before it has even started, because we knew we have a decent race car underneath us and I was very cautious along the way."
Hulkenberg's solid performance justified once again the German driver's presence on the grid. But with little realistic options available for 2021, F1's most prized backup is still facing a murky future.
"There is an oversupply of drivers," he explained. "There are many looking around the market, and then there are also drivers who are economically attractive for certain teams.
"I don't know what happens from here on. I guess you just have to be ready in a way. It will be nice if we have some preparation time and take part in the weekend from an earlier stage."
Gallery: The beautiful wives and girlfriends of F1 drivers
Keep up to date with all the F1 news via Facebook and Twitter