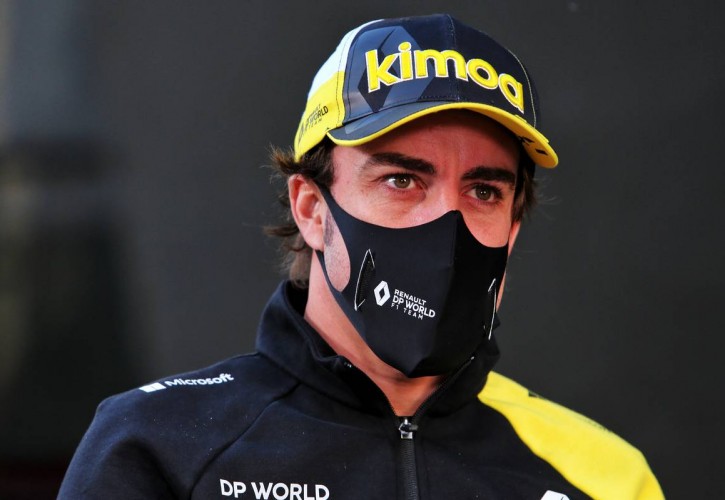 Fernando Alonso is impressed with the quality of Formula 1's young talent, but the Spaniard says one driver in particular "surprises" him every weekend.
Alonso is currently preparing for his return to the grid with Renault in 2021. The two-time world champion is embedded with the French outfit at Imola this weekend as part of his groundwork for next season.
Alonso's attention is focused on Renault's inner workings, but he is also a close observant of the performances of his future rivals, up and down field.
F1 is flush with young talent, both in terms of quantity and quality, but Alonso says George Russell gets top billing in his book.
"I think there are very talented drivers now in Formula 1," Alonso told Sky F1's Simon Lazenby.
"They all came with very nice preparation as well with driver academies that build the performance and the talent, helping them from a very young age. Now they are doing their job.
"From all of them, George Russell is the one that surprises me every weekend. How he's driving the Williams. Zero mistakes. I'm really surprised about his natural speed.
"So if I have to say one name, Russell for the future is going to be my pick."
Williams' FW43 hasn't allowed Russell to fight for a spot among the top-ten on race, although he has come close to scoring a point on occasion.
However, the Mercedes protégé has upheld his 100 per cent qualifying record against his teammate in the last 33 races.
On Friday, Williams team principal Simon Roberts finally confirmed that Russell will remain with the British outfit for 2021, putting to rest the recent speculation that surrounded his future.
Gallery: The beautiful wives and girlfriends of F1 drivers
Keep up to date with all the F1 news via Facebook and Twitter