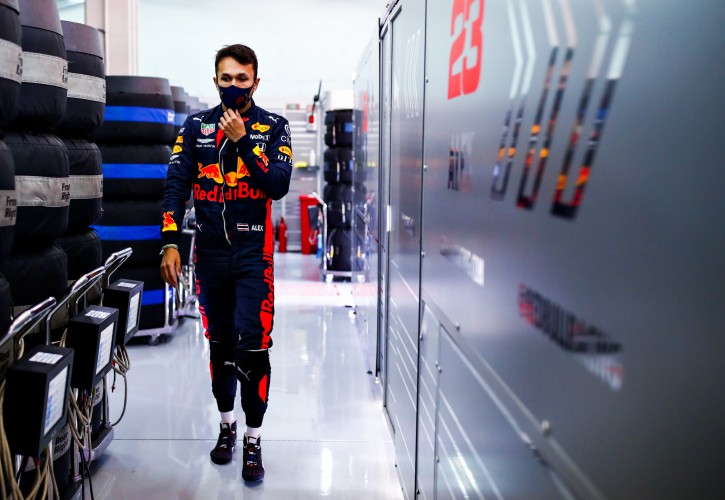 Alex Albon was at a loss to explain his sudden spin on the restart lap of Sunday's Emilia Romagna GP, a mishap that cost the Red Bull driver several points and perhaps a lot more.
Albon endured a difficult first stint on the soft tyres, falling outside of the top ten at the outset after starting his race sixth.
But gradually, after switching to the hard compound on lap 14, the British-Thai racer fought back, progressing to fifth by lap 51 when the Safety Car was deployed following the retirement of his teammate Max Verstappen.
However, while several of his mid-field rivals tagged on an extra pitstop during the caution period, Albon stayed out. But on the restart, the Red Bull driver was immediately passed by Racing Point's Sergio Perez at the Tamburello chicane.
As Albon exited the chicane in the wake of the Mexican, he lost control and spun on to the grass and out of contention for a spot among the top six.
"I don't know [what happened], to be honest," he said after the race.
"I don't know if it was [contact] or just cold tyres at the same time as losing downforce. It just went so quickly.
In retrospect, Albon believed that following his rivals' lead and pitting during the safety car period for a fresh rubber would have been a better game plan.
"Obviously we were the first car for, let's say, the soft[-tyred cars] to come across, so it was always going to be difficult to stop them."
"In hindsight we could have done something a bit different there and boxed, but it's one of them things. I think we could have easily got a podium today…[but we finished in] last position. Not what we wanted."
A replay of the commotion that had occurred at Tamburello on the restart suggested an unforced error by Albon, whom McLaren's Carlos Sainz nearly missed.
Pressured to deliver a string of good results at Portimão and Imola to retain his seat with Red Bull for 2021, the 24-year-old failed to deliver, inching himself closure to an inevitable exit.
"Of course I'm hanging in there, I'm doing everything I can," Albon said as he tried to put on a brave face. "It was, in retrospect, not a bad weekend for me. But we'll focus ahead on Turkey."
Red Bull team boss Christian Horner predictably lamented his driver's shortfall.
"It's a difficult one for Alex because he was in that race with Charles [Leclerc] and Daniel [Ricciardo] all afternoon," he said.
"Then at the restart fighting with Perez who was on new tyres, he just lost it at the second chicane. So hugely frustrating for him to come away with zero points and for the team as well."
Gallery: The beautiful wives and girlfriends of F1 drivers
Keep up to date with all the F1 news via Facebook and Twitter