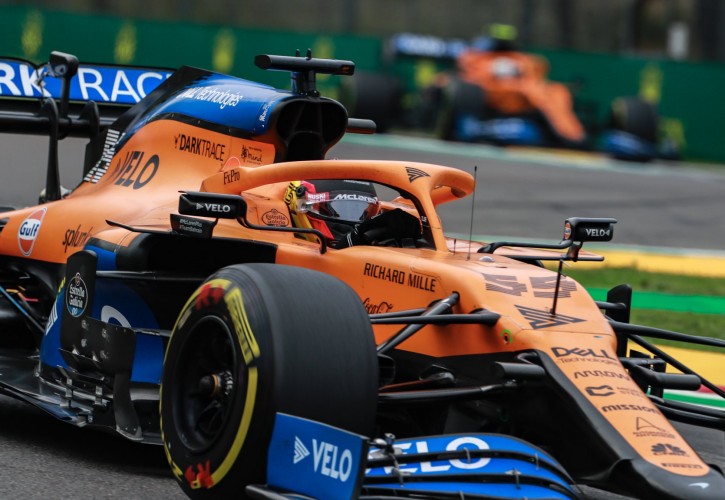 Carlos Sainz was "happy to salvage" a handful of points from the Emilia Romagna GP after the McLaren driver's race almost ended in tears following a near miss with Alex Albon.
The race was restarted after a Safety Car period with just five laps to run, with a raging battle set to unfold for the final spot on the podium.
Sainz was right behind Albon in eighth position when the Red Bull driver spun on the exit of the Tamburello chicane on the restart lap. The Spaniard piled on the brakes but came within inches of collecting his rival.
"I had to react really quickly on the brakes," Sainz explained. "I just missed him by the tiniest of margins, so happy to salvage that".
The end result for Sainz was a seventh-place finish, a position in the pecking order that would have been hard to improve on according to the McLaren driver.
"We managed to overtake Lando [Norris] in the first few laps. I always felt like I had more pace than the guys in front but it was just difficult to overtake," he said.
"We were one of the soft runners to stay and put in some good laps there at the end, and I managed to keep the soft tyres alive.
"I had a very strong first stint and a strong actually second stint. It was just difficult to get a move on. I could only really pass Lando but then the rest were very tricky to pass."
Sainz's result coupled with Norris' P8 right behind allowed McLaren to maintain its fourth place in the Constructors' championship on a par with Racing Point, while Renault now leads the pair by just a single point.
Gallery: The beautiful wives and girlfriends of F1 drivers
Keep up to date with all the F1 news via Facebook and Twitter