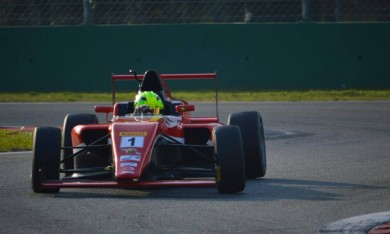 Mick Schumacher, the son of Michael Schumacher, is set to make his F3 debut this year.
The 16-year-old, who raced in Formula 4 last year, finishing 10th in the ADAC German series (and third best rookie), has been enrolled into the Ferrari Driver Academy which in turn has led to talks with the Italian manufacturer's junior outfit Prema Powerteam for a F3 drive.
It was initially thought that Schumacher would accomplish a full series of F4 in 2016, but Prema founder Angelo Rosin confirmed that talks were underway with Mick's manager Sabine Kehm to enter the young driver directly in F3 this year.
As a reminder, Schumacher junior tested a Dallara F3 for Prema at Monza in November of last year.
It's also worth noting that Harrison Newey, the son of famed Red Bull Racing designer Adrian Newey, shall also be making his F3 debut in 2016 with the winning Van Amersfoort Racing outfit which ran Mick Schumacher in F4 last season.
Feature: Swindlers, liars, and fraudsters - F1's most curious characters