Lewis Hamilton held on to the lead of the Bahrain Grand Prix against the odds to take the first victory of the 2021 world championship over Max Verstappen.
A battle of tyre strategies saw the Red Bull briefly take the lead with three laps to go, but going off track in the process. He was told to hand the place back by race control, with too little time left to pull off a second strike before the chequered flag.
Valtteri Bottas picked up third place, while McLaren's Lando Norris got the better of Ferrari's Charles Leclerc to claim 'best of the rest' status.
Sergio Perez suffered an engine glitch on the formation lap but fought back to take sixth place ahead of Daniel Ricciardo. Nikita Mazepin's F1 debut ended with a spin at the first corner, while Fernando Alonso's return to the sport finished prematurely with a brake issue on lap 34.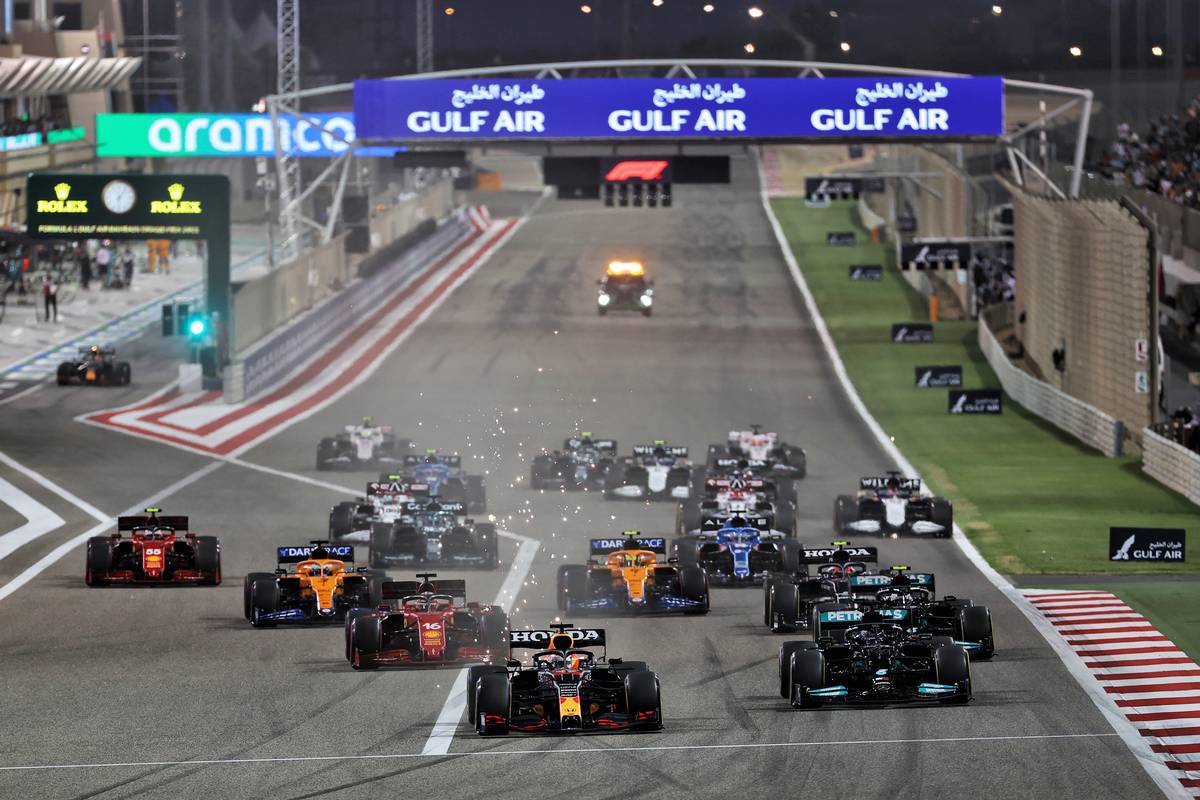 With Red Bull getting the emphatic upper hand in Saturday's qualifying session, everything looked set for a thrilling curtain raiser to the 2021 world championship season. Max Verstappen took up his place on pole position, while his Mercedes rivals Lewis Hamilton and Valtteri Bottas looked to be very much on the back foot as the sun dipped below the horizon and the floodlights took over.
The stage was set for the start of the Bahrain Grand Prix, but proceedings were briefly delayed by the need for a second formation lap, after drama for Verstappen's new team mate Sergio Perez when the Red Bull's engine abruptly cut out at turn 12 on the initial circuit. Fortunately the Mexican was able to get going again, meaning he would take the start from pit lane.
The top three were all lined up on the medium tyres while Ferrari's Charles Leclerc was the highest-placed driver on the nominally faster soft compound. When the race lights went out, Verstappen maintained the lead despite heavy pressure from Hamilton, while Leclerc got the better of Bottas for third place ahead of AlphaTauri's Pierre Gasly and a squabbling pair of McLarens. However the action was immediately paused by a safety car being scrambled in response to an accident at the back of the field, with Haas rookie Nikita Mazepin losing control of the car at turn 3, plunging him off the track before coming to a stop against the barrier.
The race restarted on lap 4, with Verstappen backing the field up before launching himself down the straight and out of reach of Hamilton, who had his own hands full with Leclerc. Bottas was similarly busy fending off Lando Norris after Gasly damaged his AlphaTauri's front wing jousting with the McLaren and dropped back through the field before he could pit for repairs. The debris from the clash was enough to trigger a brief virtual safety car, which also covered a tricky moment for Mick Schumacher who mimicked his Haas team mate with a spin of his own at turn 4 at the restart, albeit without the race-ending consequences.
As the race finally settled down, Verstappen was already out of DRS range at the front despite having reported "something weird on the throttle". Bottas quickly recovered third place from Leclerc, with Norris holding on to fifth ahead of his team mate Daniel Ricciardo and soon able to use that as a platform for a successful move on Leclerc to take fourth for himself.
Fernando Alonso had already managed to surge to seventh in his first race back in F1 with Alpine, but then succumbed to a move from Aston Martin's Lance Stroll at the first corner on lap 10. Meanwhile Perez was busy bouncing back from his formation lap drama by taking advantage of the early disruption to climb up to 12th with a successful pass on Alonso's team mate Esteban Ocon. The Frenchman was being hunted down by AlphaTauri's Yuki Tsunoda and Aston's Sebastian Vettel, after the pair survived an earlier clash without too much harm done to either car.
Alonso was the first of the scheduled pit stops on lap 12 to ditch the soft tyres in exchange for a new set of mediums. Norris and Leclerc both came in next time round for their own service, and after that the pit stops came thick and fast. Hamilton was in on lap 14 despite having begun the race on medium tyres, and he opted for the hard compound which allowed him to punch in impressively quick laps that slammed shut Verstappen's narrow window of opportunity to pit next time by and still retain the lead.
Bottas finally pitted on lap 17, and a lap later Verstappen was also in. Unlike the two Mercedes drivers he opted to stay on the medium compound rather than switching to the hard tyres, committing him to making a second stop further down the road. Hamilton was duly promoted to the lead, but the new tyres soon gave Verstappen the edge and he was quickly closing the gap to the front while staying ahead of Bottas and Norris.
Perez' latest comeback campaign had briefly put him up to fourth before he made his own stop. Unlike Verstappen, he opted for a set of hard tyres with a view to going to the end of the race. He duly dropped out of the top ten but soon bounced back with passes on Vettel and Alonso. That left Norris back in fourth place ahead of Leclerc and Ricciardo with Perez quickly picking off Stroll and Sainz to climb back to seventh place.
With Hamilton struggling for grip, Mercedes preempted the Red Bull threat by calling him in for a second time on lap 29 for a new set of the hard tyres, dropping him into open space between Bottas and Norris but almost 20s behind Verstappen. Bottas soon followed suit, but a painfully slow service cost him almost 10s in the box which meant he came back out behind Leclerc in fifth place. Fortunately the Ferrari's subsequent pit stop on lap 33 at the same time as Ricciardo soon put the Finn back into the top four.
As everyone waited to see when Verstappen would make his final stop, there was consternation at Mercedes where it seemed that Hamilton was unable to maintain the pace he needed without shredding his tyres prematurely which would force him into an additional pit stop that would cost him any chance of victory. Hamilton's mood was hardly helped when he was told that race control were unhappy with his continual breeching of track limits at turn 4 - despite a common understanding among the teams and drivers that these were only supposed to apply to qualifying laps, not the race.
By now even Perez was finding it hard to eke out his tyres long enough for a two-stop strategy, and he was in again on lap 39 to change back to mediums and when he came back out on track he was pitched straight into a lively battle for seventh position with his former Racing Point team mate Lance Stroll, who gave little quarter. A lap later Verstappen was also in from the lead, finally switching from the medium tyres to a set of the hard compound allowing him to commence his charge-down of Hamilton for the win, gaining by one second per lap.
For once, it seemed there would be no trump card waiting in Mercedes' pockets: Hamilton was struggling for grip and not entirely succeeding in staying on track in the closing laps. Verstappen finally pulled off a pass on lap 53 to take the lead, but went off track in the process. Instructed by race control via the team, he was told to hand back the place and trying again rather than face a potential stewards enquiry and post-race penalty. However it broke Verstappen's momentum while gifting Hamilton crucial second wind, and the Dutch driver then found himself scrambling for a second chance which ultimately never came.
Hamilton duly took victory, leaving an annoyed Verstappen having to settle for second ahead of Bottas, Norris, Perez, Leclerc and Ricciardo, with the top ten rounded out by Sainz, Tsunoda and Stroll. Just missing out on points were Alfa Romeo pair Kimi Raikkonen and Antonio Giovinazzi. Ocon took 13th after a late clash with Vettel, who subsequently dropped behind George Russell with a ten-second penalty for causing a collision sealing a miserable weekend for the four-time champion. Mick Schumacher crossed the line in 16th ahead of Pierre Gasly and Nicholas Latifi, with Alonso having joined Mazepin in retirement after suffering a rear brake issue on the Alpine on lap 34.
Gallery: The beautiful wives and girlfriends of F1 drivers
Keep up to date with all the F1 news via Facebook and Twitter