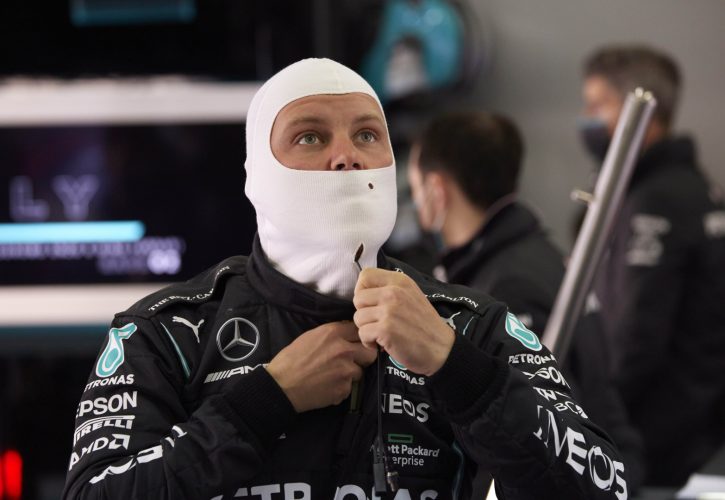 Valtteri Bottas rejected any responsibility for the spectacular crash in Sunday's Emilia Romagna GP that involved himself and George Russell, insisting the Williams driver was "clearly" at fault.
The pair collided on lap 33 as Russell attempted a move on the outside of the Finn on the run down to Turn 2. But during the maneuver the Briton put a right wheel rear on the wet grass and slid into the side of the Mercedes.
The contact sent both cars into the barriers and spread debris all over the track which led to the race being red flagged.
Russell blamed Bottas for dangerously moving over on him, but the Finn said tat he remained on the racing line and left enough room for the Briton to pass.
"I could see him earlier on the straight, then I noticed that he moved to the right," Bottas said.
"From the replays I saw, I always left space for two cars to be there, but he obviously lost it and hit me, and that was game over."
In the immediate aftermath of the crash, an angry Russell walked over to Bottas and tapped on his helmet. The Finn was unimpressed, however.
"I don't know what he was on about, because it was clearly his mistake," Bottas added. "So I was not happy with him. But that's how it is."
Bottas and Russell had yet to speak to each other but the two drivers' views were weighed up by the stewards who took no further action, deeming the run-in a racing incident.
After the race, speaking to the media, Russell said that Bottas would have perhaps not undertaken his defensive against another driver, alluding to the fact that the Briton is anticipated to replace the Finn at Mercedes next season.
Bottas responded to Russell's comment, saying that it was "quite a theory".
"Sorry, I lost my aluminium foil hat somewhere. It's quite a theory," said the Mercedes driver.
"I'm always going to defend to any driver, I'm not keen to lose any positions. That was normal defending. It could have been a lot more aggressive if needed.
"I don't agree with any of that at all. I was doing my thing. No matter who I would have been defending, it it would have been exactly the same."
Gallery: The beautiful wives and girlfriends of F1 drivers
Keep up to date with all the F1 news via Facebook and Twitter