The Sao Paulo Grand Prix stewards opted not to sanction Max Verstappen for his defensive move on Lewis Hamilton in Sunday's race, but it has come to light that they made the call without viewing on-board footage from the Red Bull driver's car.
Verstappen aggressively countered Hamilton's move around the outside of Turn 4 at Interlagos on lap 48 by running wide and pushing the Mercedes driver, and himself, off the track.
The Dutchman appeared to deliberately open up his line as he exited the corner, but the stewards did not take exception with the move.
Mercedes boss Toto Wolff called the decision "laughable" while Red Bull's Christian Horner argued that the tussle was just "hard racing".
A wide shot of the incident and a rearward-facing on-board from Verstappen's car were broadcasted over F1's world feed. But FIA race director Michael Masi revealed that the stewards did not have access to footage of Verstappen at work in the cockpit of his car as he turned into Turn 4.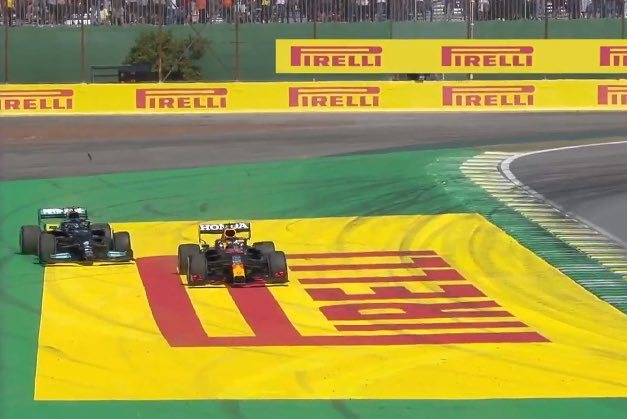 "It hasn't been obtained yet," Masi said. "It's been requested. It's only the cameras that are broadcast is basically what we have access to throughout the week.
Asked if the footage could shed more – perhaps incriminating – light on Verstappen's move, the Aussie said: "It could be, absolutely. Potentially, absolutely.
"But no, we didn't have access to it. Obviously, it's been downloaded and once we do, and once the commercial rights holder supplies it, we'll have a look."
Despite the general consensus that Verstappen deserved a time penalty, Masi defended the stewards' call.
"You judge the incident on its merits and you have a look at all of it," he said. "And let's not forget, we have the overall 'let them race' principles, and looking at it all, with all of the angles that we had available, it was that philosophy was adopted.
"They're - give or take - about side-on-side. So I think that for the benefit of everyone, it was the 'let them race' and [we] let them race."
Masi said that the thought of showing Verstappen at one point a black-and-white flag warning the Dutchman of an unsportsmanlike behavior, which he was eventually shown for weaving on the straights ahead of Hamilton.
"It certainly came into my mind, and then sort of looked at it a few more times and it wasn't far off a black-and-white flag, to be brutally honest, for Max."
Gallery: The beautiful wives and girlfriends of F1 drivers
Keep up to date with all the F1 news via Facebook and Twitter