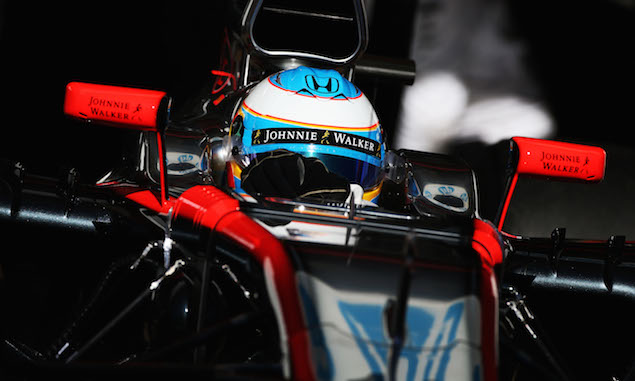 Carlos Sainz Jr set the fastest time of the final morning of the second pre-season test as Fernando Alonso crashed the MP4-30 to bring the session to an early end.
McLaren opted to change its schedule after Jenson Button was only able to complete 45 laps over his first two days in the car, with Alonso having enjoyed a more encouraging day on Friday as he managed 59 laps. With Alonso driving on Sunday morning McLaren failed to get on track in the opening hour, but he hit the inside wall between turns 3 and 4 on what was his 21st lap late in the session to bring out the red flags.
Button was set to take over the MP4-30 for the afternoon, but Alonso's incident could impact on those plans as the session was ended early with a medical vehicle on track, with Alonso being taken to hospital by helicopter.
The crash brought to an end a session topped by Carlos Sainz Jr, with the Toro Rosso setting a 1:25.604 on soft tyres. It was part of a qualifying-style run for Sainz Jr, who set the time, backed off for a lap and then failed to improve before pitting.
Sebastian Vettel was second quickest for Ferrari, setting a time 0.7s slower than Sainz Jr. Vettel also posted his lap on the soft tyre, with the Toro Rosso quickly usurping him at the top of the times. Vettel completed 59 laps throughout the morning session, which was punctuated by two red flags.
Alonso's incident was the second stoppage of the day, with Nico Rosberg causing the first in the opening half an hour. Rosberg had a similar issue to Vettel on the third day, spinning off at Turn 5 and beaching his car in the gravel having locked up. Rosberg still finished fourth fastest behind Sainz Jr, Vettel and Nico Hulkenberg in the 2014 Force India.
The McLaren set the fifth fastest time, ahead of Romain Grosjean's Lotus and Daniil Kvyat's Red Bull. Valtteri Bottas had a productive morning in the Williams as he completed 52 laps but set the slowest of the recorded times, with Felipe Nasr managing just three laps for Sauber after his car stopped at the pit lane entry.
Click here for live coverage of testing from Barcelona