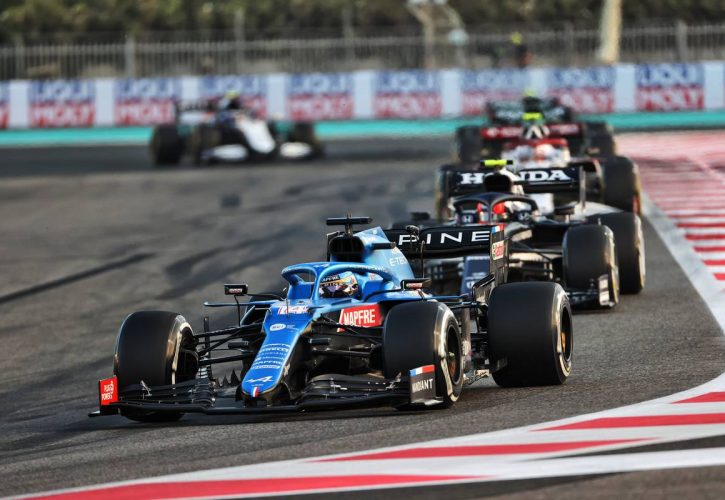 Alpine chief executive Laurent Rossi says he was pleased overall with the French outfit's progress in 2021, insisting its crews hard work in the background paid off last year.
Alpine concluded its season fifth in the Constructors' standings, 13 points ahead of midfield rival AlphaTauri.
Although the Enstone squad's campaign lacked consistency, it nevertheless managed to put a remarkable win on the board, courtesy of Esteban Ocon in Hungary, while Fernando Alonso contributed in Qatar a second podium to the team's 2021 track record.
Rossi admitted Alpine could have performed a bit better on the track, but overall, the Frenchman was satisfied with how the team had evolved and developed over the course of a "tough" season.
"Obviously if we would have had a faster car, I would have been a bit happier, but it's OK," Rossi told RACER.
"It's the end of an era for this car and we learned a lot of things, we've put things together.
"I told the team many times that it's the sum of all details that matter, and even if the car is not fast the rest has to really be top quality. And they've done that.
"They've learned from every single race – between mistakes, missed opportunities here and there, strategy, tires, this and that – and we've put it together with what was absolutely unexpected, with the win in Hungary.
"That gave it a nice twist, because it showed that we didn't work for nothing.
"And it's like the hard work that we do in the background and behind the scenes that nobody sees because you're not winning, you're not on the top of the rankings… suddenly it pays off and you're like, 'Ha!' and everyone is happy.
"So all in all, a pretty good year, a tough year, but a pretty good year and exciting."
On a personal level, Rossi admitted that his first year at the helm of Alpine involved a lot of learning.
"I had an expectation that it was going to be a rollercoaster, and it has been," he said. "A steep learning curve obviously, because I'm new to the sport, at least in my capacity.
"I'm not new to the sport as an engineer and as a manager, because I'm an engine engineer and a fluid mechanics engineer.
"So basically I can understand everything that is going on, and I have a lot of friends that, after school, went into Formula 1.
"I'm still in contact with them; some of them work for me now, so this part was OK.
"To learn a bit of the sport itself… I knew (it) from the outside, because as a member of the Renault Executive Committee I was participating in a couple of races, but it's different watching it and being part of it. But I would say it's going well."
Gallery: The beautiful wives and girlfriends of F1 drivers
Keep up to date with all the F1 news via Facebook and Twitter