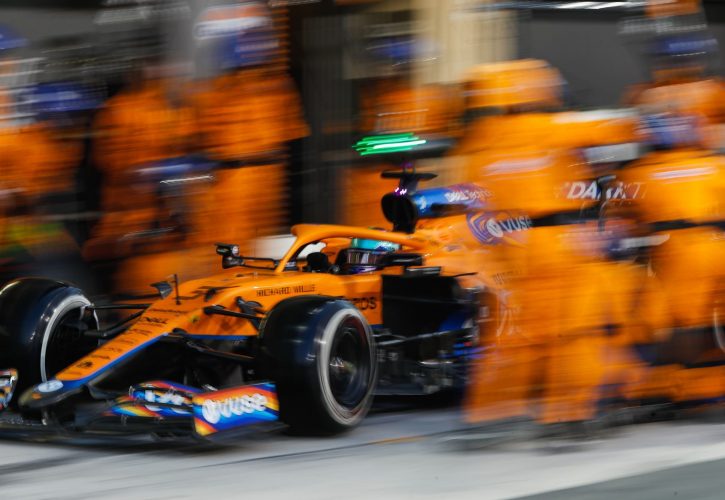 McLaren says it will consider its options regarding a tie-up with Audi once the German manufacturer makes a call on its potential entry into F1.
The Ingolstadt firm is considering an involvement in F1 along with fellow VW Group affiliate Porsche, with both brands evaluating an entry into the sport upon the introduction of Grand Prix racing's new engine rules in 2026.
Volkswagen's brand strategy appears to be based on a joint engineering effort between Audi and Porsche regarding the development of a common power unit, with the former supplying the engine under its name to McLaren while the latter would partner with Red Bull Racing.
However, rumors of an outright takeover of the McLaren Group by Audi continue to linger. And while the British manufacturer has denied the claims, McLaren Racing boss Zak Brown has hinted that an engine supply deal with Audi, at the very least, would be worthy of being considered.
"I'm hearing they're going to do something with Red Bull on the Porsche front," said Brown in a media conference at Woking, alluding to the VW Group's F1 endeavor.
"I think they've spoken with a handful of people on the grid and, as you would imagine, we have conversations.
"But in the short term, and medium term, we're very happy where we are [with Mercedes].
"So we're going to just wait and see: are they going to enter the sport? Because I think that's not been definitively decided.
"If they do, we have a contract through this term. And naturally, we're going to evaluate where we are and who's in the sport, and then take a decision on what we're going to do in 2026 in due course."
McLaren's current partnership with Mercedes enjoyed its first win last year at Monza, albeit in fortunate circumstances. Although Brown admits there's a "detriment" to being a customer team, the American is convinced that McLaren can tag on more wins with its engine supplier.
"I think we can win with a Mercedes engine," he said. "I know for a long time there's been this view you can't win with a customer engine.
"I think you can and we're very confident that our Mercedes power unit is identical to theirs. We've not seen anything to say otherwise.
"You are at a little bit of a disadvantage from an overall design concept, because they understandably get a view of what the architecture looks like
"So there is a detriment to being a customer team. But it's not the power unit itself. It's the knowledge that you get by kind of having a first look [at the engine design]."
Gallery: The beautiful wives and girlfriends of F1 drivers
Keep up to date with all the F1 news via Facebook and Twitter