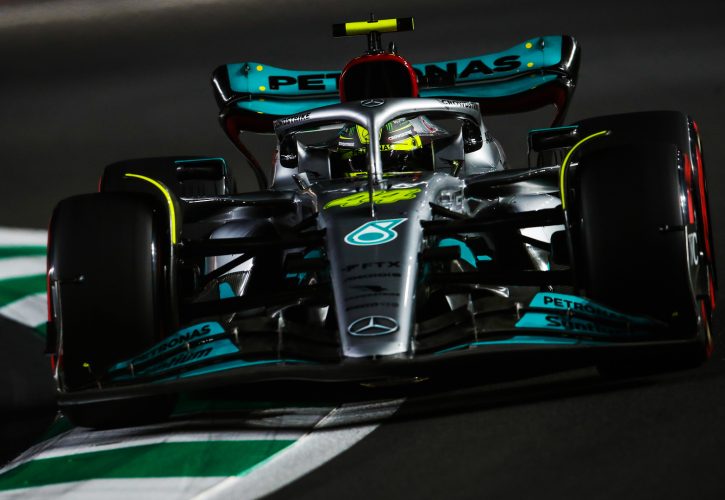 Mercedes justified Lewis Hamilton's early exit from qualifying in Saudi Arabia by taking the set-up on the Briton's W13 "a bit too far".
Hamilton suffered a dreadful qualifying in Jeddah, his worst in five years, with the seven-time F1 world champion eliminated as early as Q1.
The Briton delivered an apology to his Mercedes team after his Saturday evening knock-out, but trackside engineering director Andrew Shovlin admitted that an ill-fated attempt by the team to push the boundaries of the Silver Arrows' set-up was to blame for the failure.
"Fundamentally, we don't really understand the car yet as well as we do at the end of the year – we've only had two races with it," said Shovlin in Mercedes' Saudi Arabian GP debrief on YouTube.
"We are always exploring the set-up with Lewis, trying to find a direction that delivers performance, and we'd found a good direction from Friday into Saturday that he was able to try in the third practice session.
"We went quite a bit further on that into the qualifying session, but ultimately it was a bit too far, so from the word go, he was lacking rear grip."
Shovlin underscored the knock-on effect of a driver dealing with low grip on a track like Jeddah that leaves no margin for error.
"Jeddah is a street circuit, you need a lot of confidence, it's very fast, the walls are very close and when you haven't got the rear grip, the driver can't have that confidence," added the Mercedes engineer.
"Ultimately, we pushed it a bit too far, but it was a useful learning exercise."
The severe porpoising issues impacting Mercedes' W13 have so far prevented the Brackley squad from unlocking its car's performance.
But Shovlin has warned that underperformance could be the norm for the championship winning team until its problems are solved.
"Fundamentally, the problem right now is the car is not fast enough and, unless we get it perfect, we are going to be at risk in those sessions," he said.
"We need to make a quicker car as soon as possible."
Keep up to date with all the F1 news via Facebook and Twitter