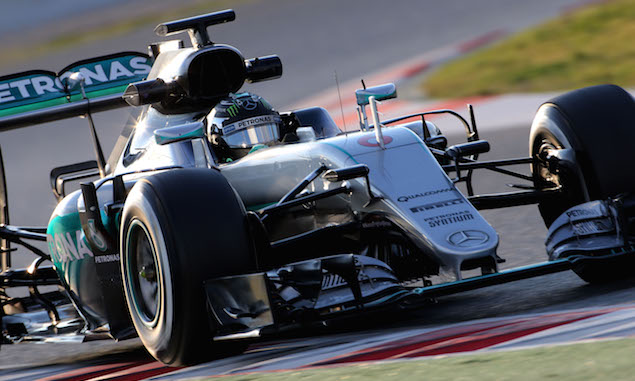 Nico Rosberg believes Mercedes has introduced upgrades to its 2016 which are "ahead of the game".
Mercedes ran an innovative floor design on the second day of pre-season testing in Barcelona, with further new parts introduced on Wednesday. The final day saw a new nose layout tested on the W07 and Rosberg - who completed 88 laps in the afternoon session - was left buoyed by the level Mercedes has set.
"It's generally been positive and reliability is looking good," Rosberg said. "It's quick, the car is quick, and I love the way it looks. If you look at it there is some real innovation on there and it's cool that you can really see the progress of how far we've come as a team.
"If you look five years ago we weren't able to make such innovation but now there are so many different things that are ahead of the game. I'm not saying we are definitely the quickest but there is some good stuff on the car and that's impressive."
With Mercedes covering over 3000km across the first week, Rosberg said the mileage allowed the team to prove out its new parts.
"We found a few bits and pieces that broke on the car and we wouldn't have found them with only 2000km. That has been useful because for sure that will help us at the beginning of the season. We're confident that it's been the right thing to do and has gone well. It's stuff we've found during the day, not race stoppers but stuff you don't really want to see happen."
REPORT: Raikkonen fastest as McLaren completes just three laps
Day four of the first test as it happened
Keep up to date with all the F1 news via Facebook and Twitter