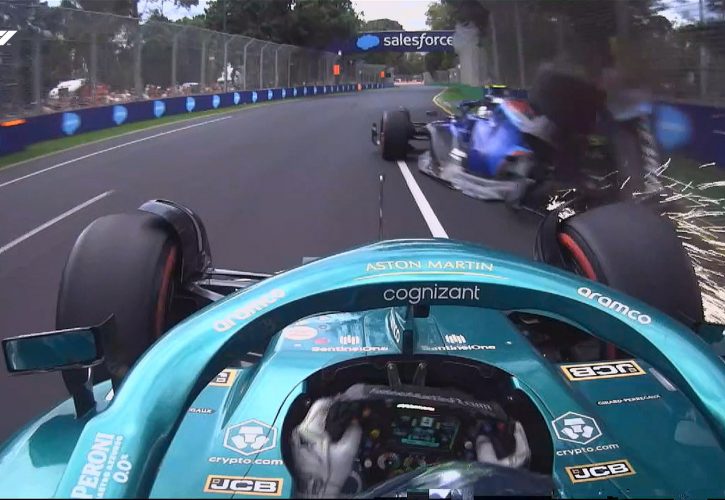 Nicholas Latifi and Lance Stroll were at odds over who to blame for their Canadian crash in qualifying in Melbourne, with the incident placed under investigation by the stewards.
The pair came together in Q1 shortly after Latifi had made way for a charging Stroll to pass him in the first sector of the track.
But the Aston Martin driver then slowed further up the road, leaving space on the right which encouraged Latifi to re-pass his countryman, only for Stroll to swerve slightly right and into the path of the oncoming Williams.
The collision put both drivers out on the spot although Latifi came off a lot worse, with the impact ripping off both front and rear left corners of the Williams.
"I don't understand what he was doing, he wasn't looking in his mirrors" Latifi told his team's pitwall. "I'm fine, the fucking car's destroyed."
"For me, it's quite clear, I've just seen the video," Latifi explained after the sessions.
"I was just trying to go back by to prepare my out-lap and it seems like he just turned into me once I was alongside him.
"I let him through because he was pushing to open the lap, so I was told. "Then I saw he aborted the lap, so I wanted to get carried on with my own preparation lap.
"So I went back by him, obviously there was a big gap. And once I kind of got past them for whatever reason, he decided to turn. So it's clear for me on the video, there's not much more to say."
Queried on the incident, Stroll refrained from openly blaming Latifi but the Canadian also didn't own up to his mistake, insisting the smash-up with his countryman was the result of "terrible timing".
"He went all of a sudden, very suddenly," said the Aston charger. "It falls to the right so the car kind of dips to the inside as the track falls away there.
"I think the timing was just terrible, as he was accelerating the track was falling to the right for me and that's where we made contact."
Keep up to date with all the F1 news via Facebook and Twitter