George Russell says Lewis Hamilton and himself have no interest in battling each other in F1's midfield while Mercedes is focused on solving its car's problems.
Chronic porpoising troubles have impacted Mercedes' new-generation car since the start of the 2022 season.
While almost all F1 teams have suffered from the vertical bounce phenomenon, Mercedes has struggled to mitigate the issue without compromising the performance of its W13 Silver Arrow.
So far, the reigning world champions have approached each race in damage limitation mode, which hasn't worked out too badly for its driver, with Hamilton and Russell securing a podium.
Furthermore, Russell currently sits second in the Drivers' standings, 34 points behind leader Charles Leclerc, while Mercedes is runner-up in the Constructors' championship, 39 points adrift from Ferrari.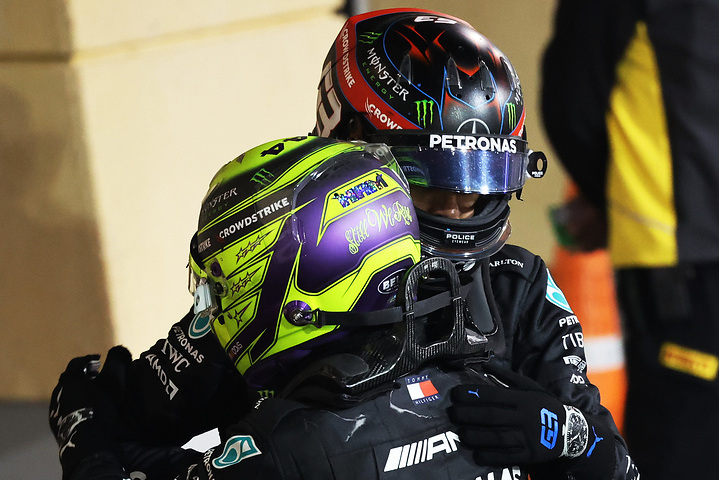 But Russell insists that until Mercedes gets on top of its porpoising issues and unlocks the full potential of its Silver Arrow, battling Hamilton for position is a secondary concern and not part of the team's "bigger picture".
"These small things in the scheme of things don't mean a lot really," Russell said.
"Obviously, everybody wants to finish ahead of their teammate, but Lewis and I have no interest in battling it out for P5, P6.
"We want to work together to claw that gap back. So, there's no hard feelings if he's ahead of me, there's no hard feelings if I'm ahead of him, and we're not too concerned about that at the moment.
"We have a bigger picture. And the long game we need to play is to catch these guys up because we're here to win."
Mercedes' early points haul will come in handy when the Brackley squad gets its act together and bridges the gap with Ferrari and Red Bull.
However, that's a plan on which no deadline can be set unfortunately, insists Russell.
"I'd love to say we've made a lot of progress, but I think we've got to look at the lap times and we haven't closed the gap at all. And we know we've got a lot of work to do but I have faith that we can get there," said the Briton.
"We know the potential is in the car and we've got a lot of work to do to extract that performance.
"It won't happen overnight; it won't happen in the next race, but I do think in time we will get there.
"So, for the time being, if we keep picking up these results, it's keeping us in the mix.
"It's definitely not based on pace, but I think it's been a respectable start to the season in terms of how we've managed to optimise our lack of performance."
Keep up to date with all the F1 news via Facebook and Twitter