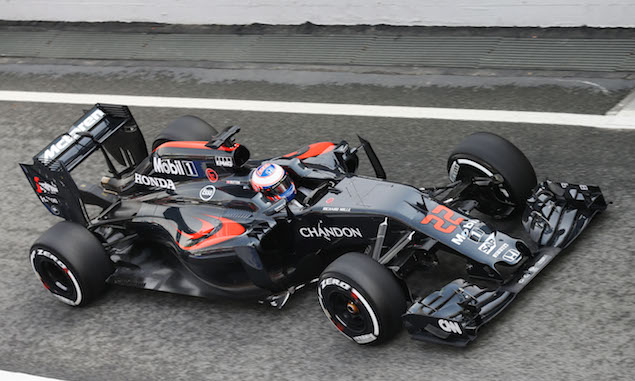 McLaren has "never ever imposed anything on Honda" as a result of its 'size zero' approach, according to Eric Boullier.
Last year's MP4-30 was described as 'size zero' as a result of the tight packaging at the rear of the car which had been achieved in conjunction with Honda's return to F1. Despite numerous reliability issues in 2015, McLaren retains a similar approach this season and Boullier insists the concept does not negatively impact on any of the work Honda does when developing its power unit.
"I think there is a big misunderstanding with this size zero concept, which I am going to try to kill now," Boullier said. "There is no overheating issues, never have been. Second, the size-zero concept is to give the aerodynamicists as much space as possible to create and invent downforce.
"We have never ever imposed anything on Honda, they do what they want. If they come with an engine like this [big] then we have to accommodate this in our size zero, which would not be a size zero any more.
"There is absolutely no constraint and if we keep this concept because we are happy with it and we believe in the concept, it will help us catch up quicker faster than any others."
Yusuke Hasegawa, Honda's new head of F1 project, confirmed Boullier's comments, with Honda's cooling problems last season not being attributed to the car's concept.
"We have never had a push from McLaren to make the engine squeezed," Hasegawa said. "But last year we had issues with cooling, but that is lack of our experience and we didn't understand how much size was necessary for the cooling. For this year we modified."