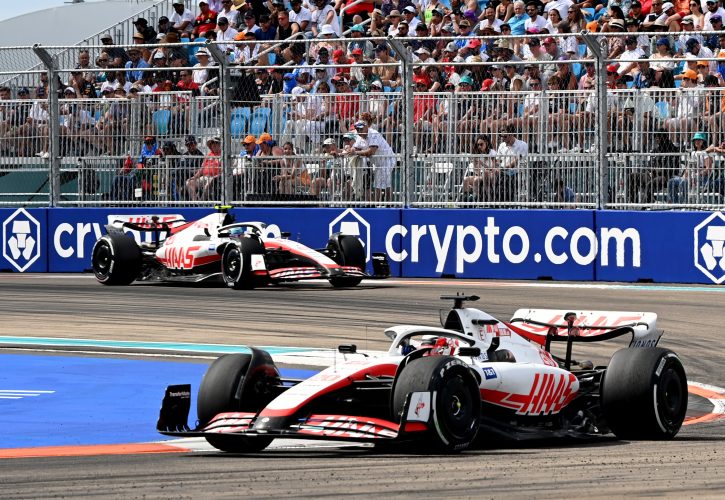 Kevin Magnussen says F1's new regulations which have given "everyone a chance" this year are making for an interesting season and one that is "a lot more fun".
Although Ferrari and Red Bull have isolated themselves at the front of the field, the battle behind the two front-runners is remarkably open, as Haas' early results attest.
Courtesy of Magnussen, the US outfit has scored points in three of the first five races, while the Dane has qualified among the top-ten also three times.
"I think we can be pretty happy with the start to the year that we've had," said Magnussen ahead of this week's Spanish Grand Prix.
"There's always things you could've done better and certainly this year, that's the case too but it's not been a bad start and we're looking forward to the rest of the year."
Next weekend's round of racing in Barcelona is expected to see most teams introduce significant updates. However, Haas has decided to wait until the early summer to upgrade its VF-22.
Magnussen believes ongoing development will regularly shuffle the running order this season.
"I think there's probably a good chance that the competitive order is going to change around a little bit this year," he added.
"We've seen Mercedes out of shape, sometimes Alfa Romeo has been up there almost with podium pace and other times we've been up there, so the competition is very tight, and I think it's going to make for an interesting season.
"It's not fun if you know that you can't be competitive and this time there is no way to say that you can't be competitive, everyone has a chance.
"I think it's way more interesting and a lot more fun – I'm certainly enjoying my time."
Mick Schumacher – who has yet to score his first championship point in F1 - agrees with his Haas teammate and sees the spread getting tighter as the season unfolds.
"I'm sure we've already seen quite a few changes, teams are still very close together and that's what we want to see, that's what this whole change was about in the end," said the young German.
"I think we've managed to get there and hopefully by the end of the season the spread isn't going to be bigger but actually smaller, and teams still fight heavily between each other and that the midfield pack catches up to the top two teams, which are Ferrari and Red Bull at the moment."
Keep up to date with all the F1 news via Facebook and Twitter