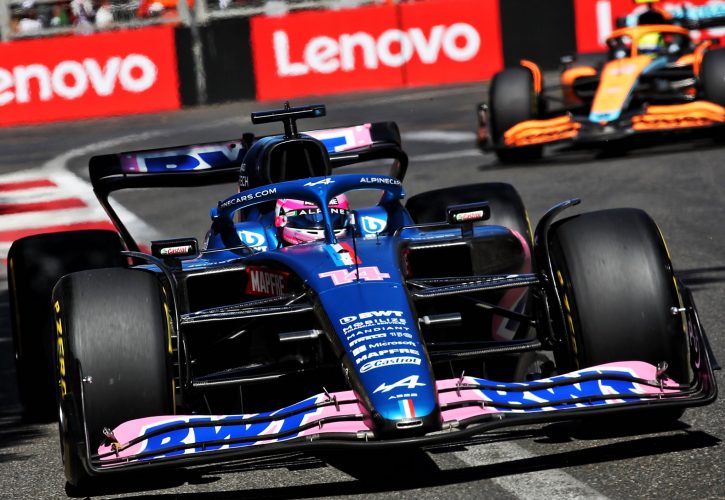 Alpine might be enjoying a solid season so far, scoring points in all but one of the first eight races of 2022, but Fernando Alonso admits the team is still having to work to get on top of some inconsistencies with the A522.
"It was a decent result for us to finish seventh in Baku," he said in Alpine's preview of the Canadian Grand Prix. "I feel like we maximised our car and the opportunities presented to us by the retirements of other cars.
"We still need to better understand our car and why we are experiencing differences from Friday through to Sunday," he continued. But he was certainly happy with how the car was handling the biggest issue of the day.
"Our car is quite good at managing the bouncing effect of this year's cars," he said when asked about the 'porpoising' that had affected other teams such as Mercedes so badly. "I didn't feel it too much in Baku.
"We were more focused on managing tyre degradation, especially of the rear tyres," he added.
It means that he's not among the drivers clamouring for changes to the rules to try and tame the issue, which left Lewis Hamilton complaining of intense back pain at the end of a particularly problematic Azerbaijan Grand Prix and Pierre Gasly it might leave drivers needing to use a cane to walk.
"It's going to be very difficult for all of the teams to agree on change," he said. "It's going to be different at each circuit - for example in Jeddah it was very smooth, and Australia as well, and nobody said anything there."
Because of the COVID pandemic, it's been three years since Formula 1 was last able to race at the Circuit Gilles Villeneuve, meaning no one is quite sure what the track conditions will be in Montreal this weekend.
"[It] brings some unique challenges given it's a non-permanent, hybrid track," commented Alpine chief technical officer Pat Fry. "We can expect the circuit to be a little green and dirty throughout opening practice.
"The nature of the track layout in Montreal drives you to higher downforce as there are some decent straights mixed with a range of low to medium-speed corners.
"Montreal has a very similar power unit sensitivity to Baku and is usually very hard on brakes," he continued. "Compared to the last race in Baku, we can expect a slightly higher downforce level for this weekend.
"We will come up a step on the rear wing level and we have some beam wing options to run with it to identify the optimal downforce setting."
Alonso's team mate Esteban Ocon called the Canadian GP "one of the more popular races on the calendar" and said it was great to be back after the enforced hiatus.
"The aim will be to have a smooth weekend, go through our programme without any issues, show our pace in qualifying, and score some good points on Sunday," he said.
"The track in Montreal has slow chicanes and fast straights, and we've shown to be fast in a straight line, so hopefully that should help us this weekend."
Gallery: The beautiful wives and girlfriends of F1 drivers
Keep up to date with all the F1 news via Facebook and Twitter