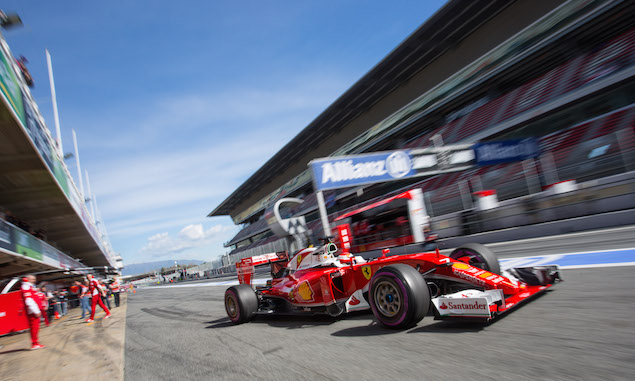 Kimi Raikkonen set the fastest time of testing so far as Ferrari set the pace on the penultimate day in Barcelona.
The morning session saw Raikkonen post an encouraging time on soft tyres which was marginally faster than Nico Rosberg had managed on the same compound on Tuesday. Raikkonen then ran the ultrasoft tyre in the final hour before the lunch break and posted a lap of 1:22.765 which went unbeaten.
Raikkonen was attracting the headlines on his installation lap as Ferrari ran a Halo cockpit protection device to test visibility for the driver, something which Raikkonen said caused him no issues.
Felipe Massa set the second fastest time of the day, with the Brazilian impressing on the soft compound tyre. Massa did try the ultrasoft in the afternoon session but his best time came on the soft, leaving him 0.1s slower than Raikkonen and Rosberg's times on the same tyre.
Nico Hulkenberg was another driver to use the ultrasoft to set his quickest time, with his best lap of the morning being beaten by Massa in the afternoon by just 0.058s. Max Verstappen in fourth - also on ultrasofts - ensured the top four were covered by less than 0.7s and all completed comfortably over 100 laps on a day full of running.
While a total of eight teams exceeded 100 laps, there were still three red flags which were all caused by Romain Grosjean. Haas was able to recover from its nightmare day on Wednesday - when it completed just one lap - to manage 78 laps but Grosjean went off at Turn 4 at the end of the morning session to end running, before two more stoppages in the afternoon.
The first afternoon red flag was the most dramatic for Grosjean, who went off at Turn 1 and ended up sideways next to the barrier. However, the car was not damaged and Grosjean returned before stopping with five minutes to go and ended the day prematurely.
There was more encouragement for McLaren as Fernando Alonso racked up 118 laps, although he was over two seconds off the pace. Alonso did test the ultrasoft tyre at one stage but failed to post his personal best on that compound.
Pascal Wehrlein was another driver to use the ultrasofts and set his best lap on the purple-walled tyre, though Manor was restricted to just 48 laps during the day. Renault looked set for a frustrating penultimate day as Jolyon Palmer completed just 26 laps in the morning, but the Briton recovered to add another 72 to that total in the afternoon session.
Follow live coverage and timing from pre-season testing here
Keep up to date with all the F1 news via Facebook and Twitter
| Pos | Driver | Team | Time | Laps | Tyre |
| --- | --- | --- | --- | --- | --- |
| 1 | Räikkönen | Ferrari |  1:22.765 | 136 | US |
| 2 | Massa | Williams |  1:23.193 | 119 | S |
| 3 | Hülkenberg | Force India |  1:23.251 | 137 | US |
| 4 | Verstappen | Toro Rosso |  1:23.382 | 159 | US |
| 5 | Rosberg | Mercedes |  1:24.126 | 81 | M |
| 6 | Nasr | Sauber |  1:24.760 | 116 | S |
| 7 | Alonso | McLaren |  1:24.870 | 118 | SS |
| 8 | Wehrlein | Manor |  1:24.913 | 48 | US |
| 9 | Kvyat | Red Bull |  1:25.141 | 121 | S |
| 10 | Palmer | Renault Sport |  1:26.224 | 98 | S |
| 11 | Hamilton | Mercedes |  1:26.488 | 63 | M |
| 12 | Grosjean | Haas |  1:27.196 | 78 | S |