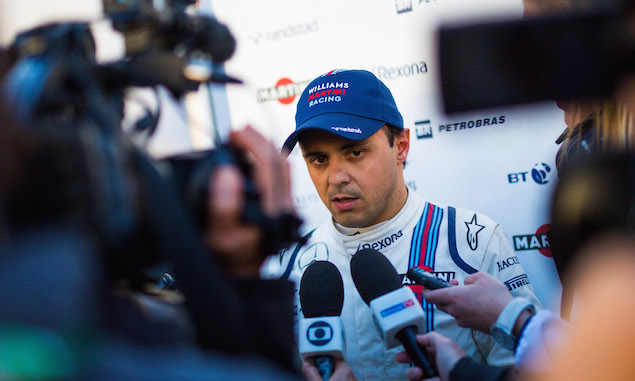 Felipe Massa described the penultimate day of pre-season testing as "the best day I had up to now" after finishing with the second fastest time.
The Brazilian driver took over from team-mate Valtteri Bottas for the final two days of testing and proceeded to complete more than 100 laps and go second behind Kimi Raikkonen with a lap on soft tyres. While Massa did run the ultrasofts he was unable to improve, but he was still buoyed by a reliable and competitive day's running.
"It was quite good, I think it was the best day I had up to now," Massa said. "We didn't have an amazing week last week, I would say, but this week is going very well.
"It was quite good for Valtteri and today was a very good day for me to understand the car. That's the most important thing, so I managed to understand the car in the best way compared to last week. Changing the set-up, the behaviour of the car, the feeling of the car was positive.
"Also trying the programme we did, on the long runs the car behaved well, but also on the short runs I could have done even a slightly better lap time because I had traffic with my ultrasoft tyres. But I think it was positive, so I am happy with the day and I hope I can be happy tomorrow as well and I hope we can be 100% ready to start the season."
And Massa says he is unconcerned by problems with graining on the softer compounds during testing conditions.
"Well this is a track where the soft tyres are also quite soft for this track. So it's a track that maybe in the race you're going to use more medium and even hard. So yes we have graining on the front, we even have amazing graining with the supersoft and the ultrasoft which is too soft for this track.
"So I don't think you need to worry about that so much and just understand the car and understand everything you have around you for the start of the season."
Follow live coverage and timing from pre-season testing here
Keep up to date with all the F1 news via Facebook and Twitter