Ferrari's Charles Leclerc topped a limited 30-minute third practice that took place on a wet track in Singapore, the Monegasque just edging arch-rival Max Verstappen.
There was little to take away from the session as everyone exerted caution and took a zero risk approach just two hours ahead of qualifying.
Behind the leading pair, Carlos Sainz, Alpine's Fernando Alonso and Red Bull's Sergio Perez completed the topo-five.
A wet session offered little in terms of help for preparing for this evening's qualifying, especially when the running begins late due to the assessment of the treacherous conditions.
During the delay, a few drivers headed out onto the pitlane, but on foot, to offer a compassionate wave to the fans drenched in the grandstands
Teams were eventually informed that the pitlane would open at 18:30 pm local time which implied that everyone would get 30 minutes of running.
But while the lights went green, there was no rush to venture out. The bumpy Marina Bay street circuit is treacherous in dry conditions, let alone in the wet.
Needless to say, the conditions were not to Red Bull's pleasing, as Max Verstappen was hopeful of increasing his mileage in the dry conditions after a low-key Friday, and the same went for Ferrari's contenders.
Eventually however, AlphaTauri's Pierre Gasly broke the silence, just to get a feel for things. The Frenchman was followed by his teammate Yuki Tsunoda which incited others to get going, with everyone equipped with wet boots.
As water was dispersed, a switch to intermediates was in order for most drivers. Fifteen minutes in, Verstappen sat at the top of the timesheet from Gasly, but save for the top two, permutations among the top-ten were fast and furious.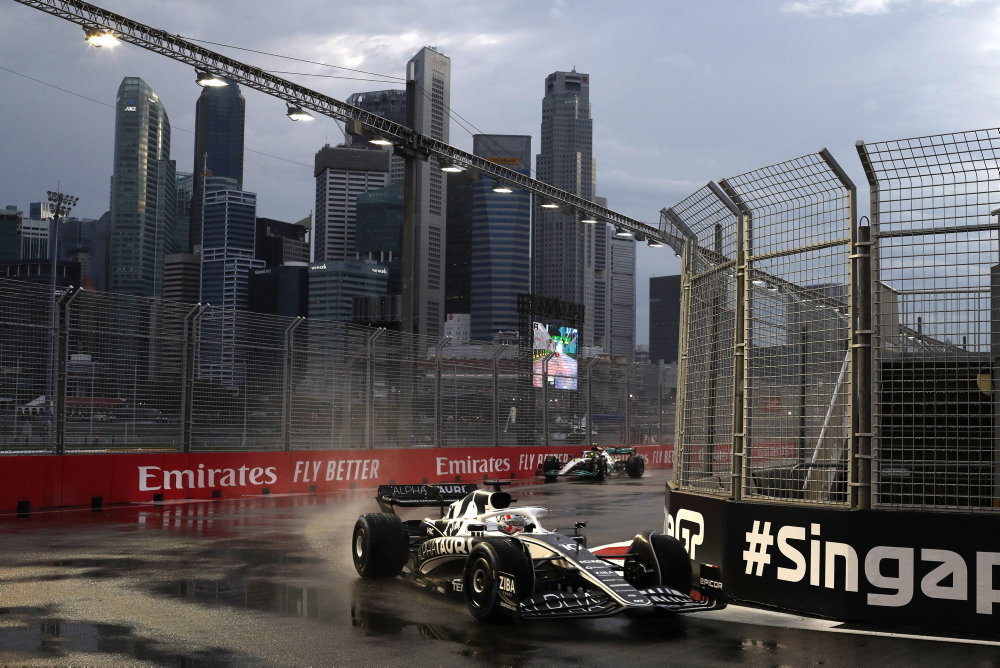 Verstappen was the first driver to break the 2-minute barrier, the Dutchman getting down to 1.58919s. But he was overhauled in short order by Leclerc who edged his rival by just 0.020s.
The pair were followed by Perez, Sainz and Alonso.
Meanwhile, Hamilton put his first flyer on the board with less than five minutes to go. It put him 19th but a second lap pushed the Briton up to P6.
Leclerc upheld his position at the top of the field from Verstappen while Sainz moved up to third, with Alonso and Perez completing the top five.
It was thus a largely irrelevant session, especially as qualifying is scheduled to take place in the dry. Fingers crossed that prediction will prove accurate!
Keep up to date with all the F1 news via Facebook and Twitter