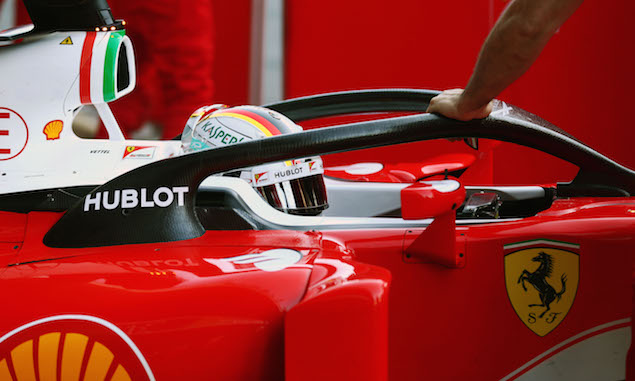 Nico Rosberg says the FIA needs to keep moving forward with plans to introduce the Halo concept despite opposition from drivers including his own team-mate.
Since the Halo was first tested by Ferrari on Thursday morning, a number of drivers have voiced their opinions on the cockpit protection concept. Nico Hulkenberg was one who is against its implementation, while Lewis Hamilton strongly opposes the idea, saying the FIA should let drivers choose not to use it.
While Rosberg would not be drawn on his team-mate's view, he said he is aware there will always be critics and it is up to the drivers in support of the concept to keep lobbying for its introduction.
"The Halo is something that the GPDA has also been pushing strongly, because it is the most risky area that still remains for us F1 drivers," Rosberg said. "It's the head. A lot of the recent fatalities in open wheel racing have been blows to the head.
"I don't know how many exactly the Halo would have avoided but for sure a couple of them. So a large percentage if there was only a couple of them. Therefore it is definitely the right thing to get as soon as possible.
"I think it's fantastic that they're really pushing ahead with it and putting it on the cars and things like that. I think from a couple of angles it even looked pretty cool, from the front for example I think it looked great, no problem. OK some other angles you can still work on it a little bit maybe or whatever, but it doesn't look bad either. So it's fine and we need to put it on the car. That's it.
"I can understand the purists of course that they will say 'but but but', but the purists have probably always been complaining for the last 50 years. When Jackie Stewart was blaming safety in the 70s he was heavily criticised for safety and those things were absolutely lethal, those cars. And at the time even he was criticised for safety.
"So there's always going to be the purists who want to keep it the way it is and things like that. That's respectable, fine, everybody has his opinion. But in my opinion the right way to go is what we're doing."
Follow live coverage and timing from pre-season testing here
Keep up to date with all the F1 news via Facebook and Twitter