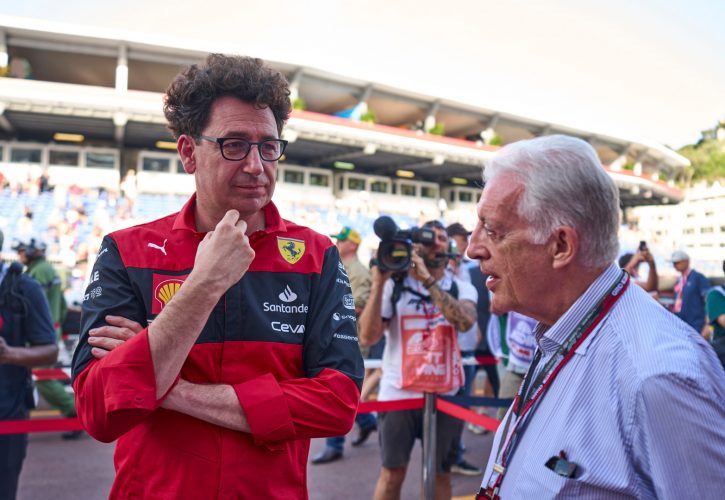 Sky F1 pundit Martin Brundle admits that Mattia Binotto's departure from Ferrari, with no immediate replacement lined up by the Scuderia, "looks a little bit strange".
Ferrari confirmed on Tuesday that Binotto had handed in his resignation as the Scuderia's outfit's team principal, a position the Italian engineer had taken over from his predecessor Maurizio Arrivabene in January 2019.
On paper, Ferrari enjoyed a reasonably good campaign this year, finishing runner up in F1's Constructors championship to Red Bull, its main rival that proved unassailable in the second half of the season.
However, the Scuderia's inability to build on its early lead in the championship coupled with poor execution in too many races that cost the team many points progressively eroded Binotto's credit with Ferrari's top brass, namely chairman John Elkann and CEO Benedetto Vigna.
Read also: Leclerc says 'esteem and respect' for Binotto never waned
Ferrari has stated that a replacement for Binotto would be finalised in the new year, and that the process was already underway.
But the talented Italian's all-encompassing role at the House of Maranello, where he oversaw the team's technical department in addition to his overall management responsibilities, will be difficult to reconstitute, which has led many to believe that Ferrari, by firing Binotto, has already jeopardized its 2023 season.
Speaking in London at the Guild of Motoring Writers' Annual Awards dinner on Thursday night, Brundle admitted to being puzzled by how Binotto's exit had played out, with seemingly no replacement plan in place.
"You're working for a country there at Ferrari, not just a team, of course," commented the former F1 driver.
"They've lost their chief technical officer and their team principal, so unless they have got somebody very, very good to replace him straightaway, it all looks a little bit strange. But that's the nature of it."
Looking towards the future, Brundle suggested that perhaps a diverse group of non-Italian individuals less vulnerable to the country's unrelenting media would prove more successful in taking Ferrari back to a golden period it last enjoyed under the ruling of Jean Todt and Ross Brawn.
"You've got to speak Italian," said Brundle. "And I think the problem is, if you look back at when they were last successful, they had a Frenchman in Jean Todt, a Brit in Ross Brawn, a South African with Rory Byrne and so on.
"Maybe that's what they need again, something like that: people who are not completely exposed to the daily Italian media."
Keep up to date with all the F1 news via Facebook and Twitter