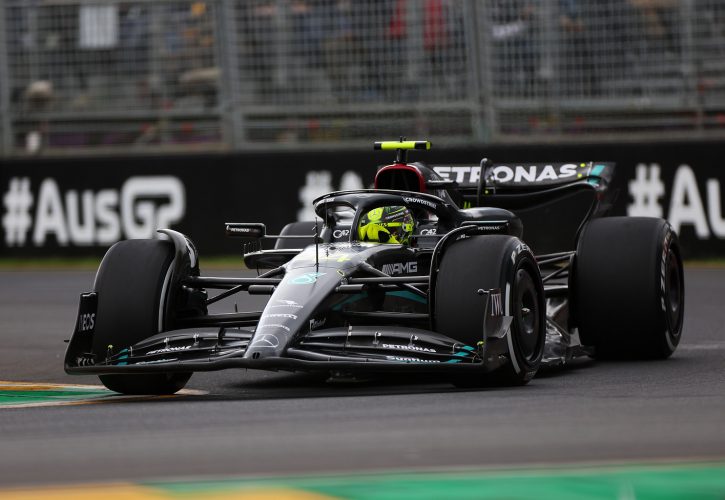 Toto Wolff says Mercedes won't be adding any performance to its W14 ahead of the introduction of its major upgrade package scheduled for the Emilia Romagna Grand Prix in May.
Mercedes is engaged in a significant overhaul of its 2023 car after Wolff recognized in Bahrain that the design's zero sidepod concept was fundamentally flawed and would not allow the Brackley squad to be competitive this season.
Although Mercedes' engineers like the numbers they are seeing in the windtunnel regarding the W14's revamped aero package, Wolff has made clear that no updates will find their way on the car until the sixth round of the championship at Imola at the end of the third week in May.
In the interim, Mercedes will focus on optimizing its car's current specification.
"In the next three races, we won't be adding any performance," Wolff told Sky Sports F1 in Melbourne.
"It is finding the best set-up solutions and having the tyre in the right window. We're doing good steps, good developments, but you've got to run them, confirm them and produce them.
"So I think we're not looking at introduction before Imola, and we want to do it right also."
While the first signs of Mercedes' development programme are promising, Wolff played down its impact, insisting there would be no immediate "miracle" gains.
"It is going in a good direction, but we suddenly shouldn't expect a miracle and be on pole by half-a-second," he said.
"I think it's more like consolidating our place between Ferrari, Aston Martin and us. That would be a good step."
While progress will take time, Wolff ensured that Mercedes' path forward was now at least "clear".
"We had a bit of a moment where it became so much clearer after the Bahrain race," he added "We were trying to make something work which we really weren't unable to unlock.
"And then now, the path is clear and it's not going to be easy. It's going to take time, but we know where we're heading to it."
Keep up to date with all the F1 news via Facebook and Twitter