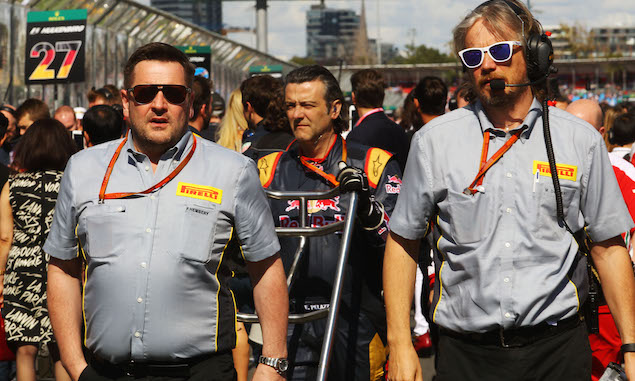 Pirelli motorsport boss Paul Hembery is encouraged by the ability of F1's key stakeholders to agree on what it wants from the tyre manufacturer in 2017.
New aerodynamic regulations are set to be introduced next season, with Pirelli's tyres also set to be radically overhauled at the same time. The teams have requested wider tyres which drivers can push harder on, with Pirelli also being granted adequate testing time to develop the new tyres.
While the final testing plan and a test car have yet to be agreed upon, Hembery says the clear direction the sport has given Pirelli is a positive step and similar to what it received when it returned to F1 as tyre supplier in 2011.
"We do finally seem to have a consensus of opinion as to what's being asked of us going forward to 2017," Hembery told F1i.
"That was very important for us because whilst we had that when we came in to Formula One - there was a project group set-up which was run by Ross Brawn and all the teams - over the years with the disappearance of FOTA (Formula One Teams Association) in some regards, that clarity of purpose was lost. At the same time we also lost any ability to test and maybe evolve the product as we probably would have done if we were given more freedom.
"That's behind us now. It was very important for us going forward to have that clarity again, which is what we believe we have. We also have the ability to test which is very important for the compounding side.
"Structurally you do a lot of your work indoors - we have drum testing, we can go to the team with tyre models to understand the impact of the structure on the handling of the car - but compounding is very much vehicle related and condition related. You don't have prediction models until really you've verified them on a circuit."
Chris Medland: Don't forget the main event
FEATURE: Silbermann says... Another tyre-some change
Technical analysis - Melbourne
Keep up to date with all the F1 news via Facebook and Twitter