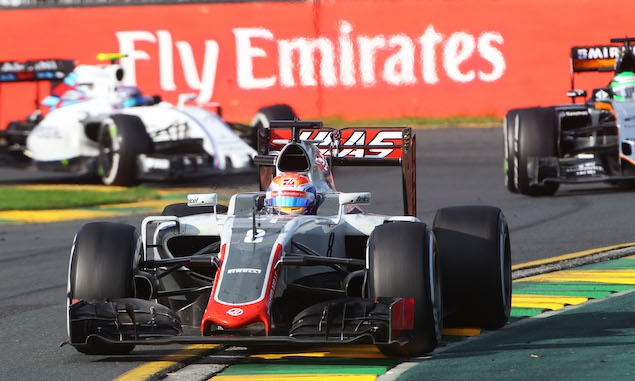 Gene Haas has warned his team the remarkable result in the Australian Grand Prix will not define its season.
Haas scored points in debut courtesy of Romain Grosjean's impressive sixth place in Melbourne, where an impressive one-stop strategy - where tyres were changed during a red flag period - saw him hold off Nico Hulkenberg and Valtteri Bottas. While team owner Haas was understandably delighted with the result, he says it will not change his opinion of how tough this year could be for his team.
"I don't think we have a lot of expectations for the season," Haas said. "I know that it could be a long, hard season and quite frankly one race doesn't define a season.
"But the team I think is good, the guys work well together. There has been a lot of learning how to communicate with the other guys and what to do. We had a little bit of adversity and they pulled together and worked."
Despite not wanting to get carried away with the result in Melbourne, Haas acknowledges it will have a major impact on the way the team operates having seen the rewards it can receive.
"They had great results and I think they're going to feel confident when they come to the next race. I think that will have great benefits because ultimately it's a team and that goes from the owner down through the drivers to the mechanics to the people who put pieces together and take them apart.
"They're all important and making them feel like they're all one is an accomplishment. I think that's what Grosjean did [in Australia], he made them feel like a team."
Chris Medland: Don't forget the main event
FEATURE: Silbermann says... Another tyre-some change
Technical analysis - Melbourne
Keep up to date with all the F1 news via Facebook and Twitter