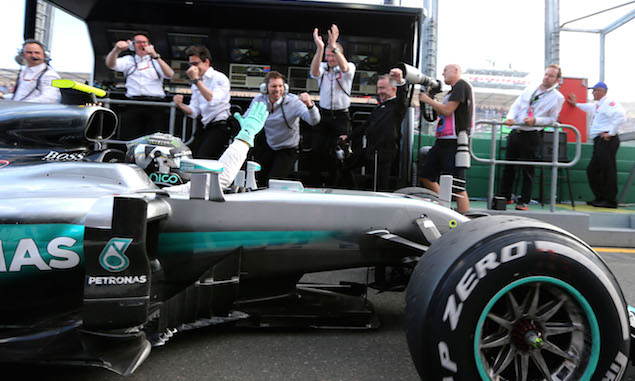 Nico Rosberg is not getting carried away with his winning run despite starting 2016 with another victory.
While Lewis Hamilton won the drivers' championship with three races to spare last season, Rosberg proceeded to win the remaining three races to increase hopes he could mount a more serious challenge to his team-mate this year. The German then got the new season off to the perfect start by taking his fourth win in a row courtesy of victory in Melbourne, but he says he doesn't view it as his form continuing from 2015.
"I always go back and try to look into things to see if there is anything I can pick out, but this season was starting from scratch for everybody, so I don't think about the previous season at all," Rosberg said. "It was the first race of the season, win it, great, there's a long way to go so I'm not going overly excited because there are 21 races and 20 to go, so early days."
And Rosberg insists he will give no thought to his championship challenge in the early races as he expects a close fight between the leading two teams.
"I don't think about [the championship] in that sense, I'm happy to beat everybody and I enjoy the battle with Lewis and the Ferraris and I'm looking forward to the next races for exactly that battle. It's going to be good I'm sure and I'm going to try to come out on top."
Chris Medland: Don't forget the main event
FEATURE: Silbermann says... Another tyre-some change
Technical analysis - Melbourne
Keep up to date with all the F1 news via Facebook and Twitter