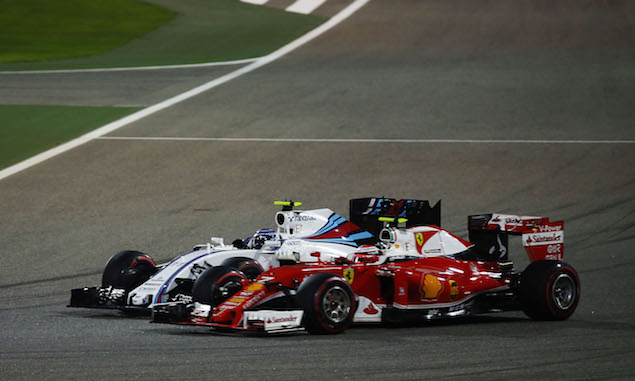 The FIA is confident the proposed 2017 F1 regulations will not make it harder for cars to overtake.
Proposed new aerodynamic regulations designed to make cars up to five seconds per lap faster have been met with a cautious response from drivers who fear increased downforce will make it harder to follow another car.
FIA president Jean Todt explained in Bahrain that overtaking remains a key part of the brief the teams and the FIA have been working towards.
"The mandate was and the mandate is how to make Formula One show that it is the pinnacle of motorsport," Todt said. "How to make cars quicker, more spectacular and facilitate overtaking while remaining in some decent budget. I think that's the mandate."
And FIA race director Charlie Whiting says the proposed plans have taken in to account the impact on racing.
"Talking about the 2017 bodywork, as Jean said those were the fundamental things we were asked to achieve and we've had countless meetings with technical directors of every team," Whiting said. "We've had a whole range of proposals from what appears to be a huge amount of downforce to a very low level of downforce but it's all based on the premise that we will have a significant increase in mechanical grip.
"So what we've ended up with is inevitably somewhere in the middle and I think it's incorrect to say that the anticipated lap time improvement will all come from downforce because it simply shouldn't be.
"The whole idea is that at least half of that will come from mechanical grip and the other half from aerodynamic downforce. One of the things that we've been talking about all along is about the fact that we mustn't make it more difficult to follow another car. That's always been one of the underlying principles.
"So we've done, I believe, the best we can given that we have to take everybody's views in to account. It's not easy sometimes to keep everybody happy, especially when you've got huge teams with massive resources. We have to rely on their simulations and that's what we've actually come up with. I believe we've trod the middle ground and we've come up with a solution which gained the most support among the teams."
TECHNICAL ANALYSIS - Bahrain Grand Prix
Scene at the Bahrain Grand Prix
Bahrain Grand Prix - Quotes of the weekend
Keep up to date with all the F1 news via Facebook and Twitter