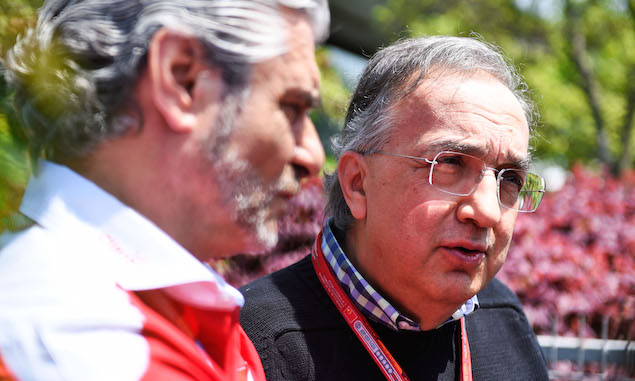 Ferrari president Sergio Marchionne was "not happy" with the performance at the Chinese Grand Prix, according to team principal Maurizio Arrivabene.
Marchionne was present at a race for the first time this season in Shanghai, with China a hugely important market for Ferrari. At the start of the race he saw his two drivers collide with Sebastian Vettel hitting Kimi Raikkonen at Turn 1, and Arrivabene says the president was naturally not happy.
"He knows motor racing so of course he was not happy as I was not happy," Arrivabene said. "He saw the race and in certain circumstances what can you do? You can say many things but there's nothing that you can do, not either to the team, or the car, things happen and you have just got to accept it.
"Of course he was not happy. By the way if he was happy I would be asking myself is he a real president."
With Vettel having originally blamed Daniil Kvyat for the contact, he was more apologetic in the team's post-race comments.
"What happened at the first lap, in the end, is a racing incident," Vettel said. "From my side I didn't really know where to go, I was sandwiched between Kimi and Daniil. Obviously I am terribly sorry for what has happened, I mean touching the car with the same colors is not right. It was a shame, because it destroyed both of our races, Kimi's and mine."
REPORT: Rosberg cruises home ahead of chaos in China
Chinese Grand Prix lap-by-lap as it happened
Eric Silbermann has breakfast with photographer Crispin Thruston
Keep up to date with all the F1 news via Facebook and Twitter