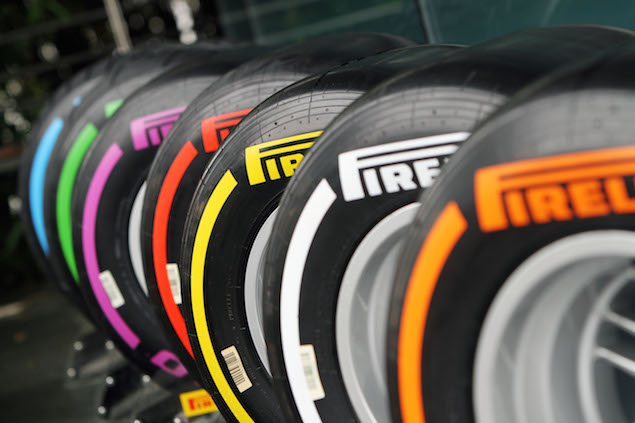 Pirelli has revealed the tyre choices made by all Formula One teams for the upcoming Japanese Grand Prix at Suzuka, which sees them load up on the yellow-marked soft tyre.
F1's official tyre supplier has nominated its hard, medium, and soft compound, the same range as for this weekend's Malaysian Grand Prix with both events held back-to-back.
Ferrari has gone for the most aggressive strategy, as both Sebastian Vettel and Kimi Raikkonen receive nine sets of the softest compound apiece. That's for instance three more than Red Bull with whom the Scuderia is currently fighting over second place in the Constructors' championship.
Interestingly, Vettel is the only driver in the field who will get a single set of white-striped mediums. This can be explained by the fact that Pirelli has made two sets of hards the mandatory race tyres - of which one set must be used.
Once again, the Mercedes duo will slightly differ on their hard/medium allocations since F1 points leader Nico Rosberg will have one exta set of mediums available compared to his title rival Lewis Hamilton. Both will get the same amount of softs with eight sets apiece.
Similarly, Red Bull has gone one step harder than its rivals for the second consecutive time, with only six sets of soft tyres made available to both Daniel Ricciardo and Max Verstappen.
All teams had to make their selection 14 weeks in advance of the Suzuka contest, whill will be the fourth race featuring the hardest, orange-walled tyre this year after Barcelona, Silverstone, and Sepang.
TECHNICAL: F1 telemetry: The data race
FEATURE: When F1 team-mates fight for the title
F1i Classic: Sepang 2001 - Ferrari pulls off a masterstroke
F1i's Eric Silbermann asks what Nico Rosberg has to do to get the credit he deserves
Keep up to date with all the F1 news via Facebook and Twitter