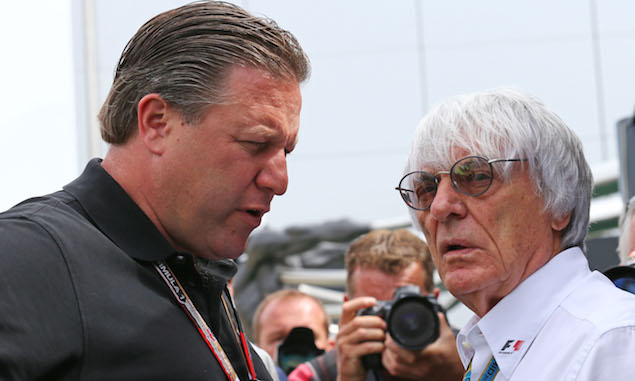 Top motorsport marketing executive Zak Brown admits "I would love to be involved in Formula One" after announcing on Monday that he was quitting his position as CEO of CSM Sport & Entertainment.
Following Liberty Media's recent purchase of F1 from CVC Capital Partners, F1i understands that Brown has been targeted for a senior management role in the structure currently shaping up under the stewardship of new chairman Chase Carey.
Having brought a number of major sponsors to F1 and its teams including Martini, UPS and Johnnie Walker in recent years, Brown has addressed the rumours about him landing a top job in the sport with Sky Sports News.
"I would love to be involved in Formula One, as I have been for 15, 20 years, and I think I've got a lot to contribute," he is quoted as saying by ESPN. "There's a lot of different ways to be involved in Formula One so I think everyone's getting a little ahead of themselves about what role I'm going to play."
However, Brown was quick to add that he is not looking to replace long-standing F1 supremo Bernie Ecclestone, who has been kept as CEO by new owners Liberty.
"I don't think anyone is going to be 'the new Bernie'," Brown further commented. "I think you're going to see it grow and become some sort of management team over time.
"The sport is too big for anyone individual, it's a big multi-billion dollar business. I'd love to participate as I have done for the last couple of decades in the sport and I'm very open to what that might look like.
"Liberty at this point is a minority investor so it will take time for everyone to understand their strengths and weaknesses. Bernie has a certain way he does things and my company wouldn't be as successful as it is today if it wasn't for Bernie - I think everyone in the F1 pitlane can make that statement.
"He's built such a big sport but he's recognised he needs some support and some help. If you look at these other major sports, the Premier League, the Olympics, etc, they've got pretty big teams in marketing that focus on the fans, so I think they'll be more of that."
TECHNICAL: F1 telemetry: The data race
FEATURE: When F1 team-mates fight for the title
F1i Classic: Sepang 2001 - Ferrari pulls off a masterstroke
F1i's Eric Silbermann asks what Nico Rosberg has to do to get the credit he deserves
Keep up to date with all the F1 news via Facebook and Twitter