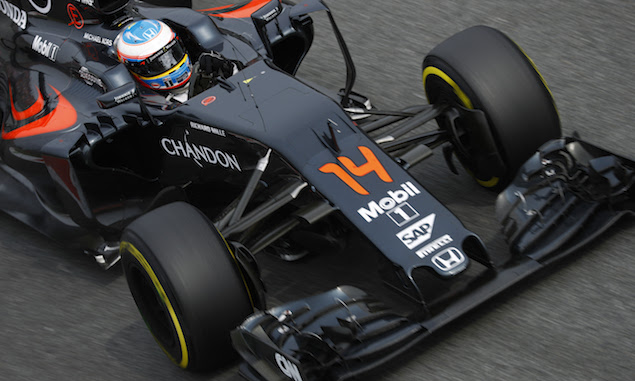 Fernando Alonso says McLaren enters this weekend's Malaysian Grand Prix looking to build on the promises shown across recent races.
Having introduced a major power unit upgrade in Spa, engine partner Honda plans on spending its final tokens for Sepang, though it will incur grid penalties.
Still, Alonso finished seventh in two of the last three grands prix and helped McLaren overtake Toro Rosso for sixth in the Constructors' championship.
"I'm looking forward to heading back to Malaysia after 18 months since the last race there," the two-time world champion said. "It'll be interesting to see how the cars cope on the newly-resurfaced track, and I imagine the weather conditions will be different from our last visit.
"Still, we expect it to be a tough race in the heat and humidity, but there's a good combination of slow and high-speed corners and fast straights.
"We'll be aiming to continue the momentum from the past couple of races and get a strong result there again this year."
Alonso is a three-time Malaysian Grand Prix winner, having tasted victory at the Sepang International Circuit in 2005 with Renault, in 2007 during his first McLaren stint, and in a wild and wet 2012 edition for Ferrari.
"It is always a fun event and among the drivers' favourites on the calendar. There's great food, lively fans and good racing so I hope we can put up a strong fight there.
"It tests every part of the package, and the driver too, so hopefully there'll be some close racing and an entertaining weekend."
TECHNICAL: F1 telemetry: The data race
FEATURE: When F1 team-mates fight for the title
F1i Classic: Sepang 2001 - Ferrari pulls off a masterstroke
F1i's Eric Silbermann asks what Nico Rosberg has to do to get the credit he deserves
Keep up to date with all the F1 news via Facebook and Twitter