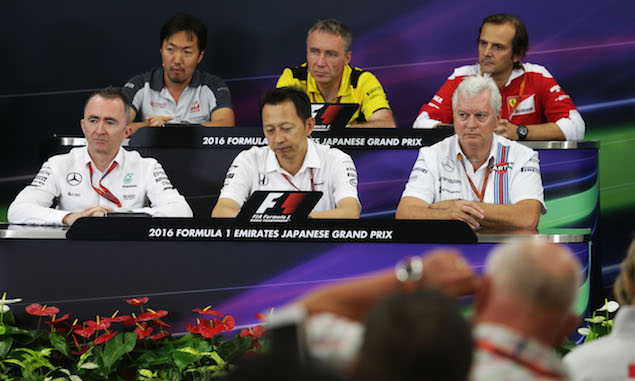 F1 teams are divided over Pirelli's request to carry out pre-season testing in Bahrain instead of Barcelona in 2017.
With new tyre regulations and faster cars being introduced in 2017, Pirelli wants to test in warm weather conditions in Bahrain to ensure there are no major concerns ahead of the start of the season. In an FIA press conference including representatives from six teams, Mercedes executive director (technical) Paddy Lowe made clear his team is in favour of such a request.
"So the situation is that we have the biggest change in tyre regulations probably for one or two decades and Pirelli have asked the FIA if they would support testing in Bahrain, which is outside Europe," Lowe explained. "So by regulation it requires a process to get there. So as I understand, a majority of teams support that request.
"For me, the important point that Pirelli were asking for is some hot condition testing of the compounds particularly. The structure of the tyre is created and tested in the lab but the compounds they can only evaluate in real circuit conditions and unfortunately the mule car programme which is running at the moment has delivered three cars which are very helpful to the process but they are not delivering the level of aerodynamic load that will be seen next year.
"So for me it's a matter of supporting Pirelli's request to contain the risk of arriving at the first race as being the first event with hot conditions and there's real risk to the show. We've seen what can happen , for example, in Indianapolis 2005. We mustn't forget that we need to put on a show, we need to run a 300 kilometers race with sensible numbers of tyres, so that's not an inconsiderable risk and should be covered. So that's why we particularly support that request."
However, when Williams technical director Pat Symonds was asked what his stance is compared to Mercedes, Symonds replied: "Diametrically opposed.
"The cost of doing a test outside of Europe is vast. Depending on exactly how you do it and how much you have to ship back to the UK, how much you can ship on to the first race – we're talking of a minimum of £300,000, probably a maximum of £500,000 so a likely figure sitting in the middle of that.
"Now to a team like Mercedes, I'm sure that they can put contingencies in their budgets to cover things like that. A team like Williams simply can't, it's a significant amount of our budget, it is unaccounted for and therefore I think it is the wrong thing to do.
"Now the rules do have an anomaly in them in that I'm sure everyone knows that at this stage of the year you normally need unanimous agreement to change the rules, but there is an anomaly in that there's just this very one thing where at the moment the rules do not allow you to test outside Europe but there is this anomaly that by majority you can agree to test outside Europe. We are opposed to that. The thing that the rules do not allow you to do is to split the testing so you can't have some people testing in Europe, some people testing outside.
"Now Paddy mentioned we need to have safety and the Indianapolis situation and things like that but I think it's very very clear in the requirements that Pirelli have signed up to and indeed that Pirelli have asked for that we're not running cars to test the safety of tyres. That has to be done off the car, that has to be done before they ever see a track, so I don't think that that's an acceptable reason to go testing in the Middle East or elsewhere.
"Yes, there will be difficulties but you know we're in the same boat. We are having the tyres selected for us for the first few races which personally I think is a good thing. If it does come about, then obviously people are going to have to do it because, as I say, we can't split the testing but it's going to make a very very serious dent in our budget.
"If we do it, I think we need to consider where we do it because we do act like sheep quite often in Formula One and there's this thing of 'oh well, we've tested in Bahrain before, let's go to Bahrain.' Personally I don't think Bahrain's a very good circuit to go testing.
"We have tested there in the winter, some people remember some years ago that there was a test there which was effectively sand-stormed off rather than rained off. And even when we tested there as recently as 2014, the first few hours of the day were spent just cleaning the circuit up.
"If you accept you're going to stop on the way to Australia, it really doesn't matter where you stop. I think Abu Dhabi would be a much better place, maybe even Malaysia. But as a team we're opposed to the idea."
With representatives from Renault and Haas also stating they are against testing outside Europe, and with Ferrari and Honda offering no opinion either way, Symonds then joked to Lowe: "Paddy, I don't think you got your majority, did you?"