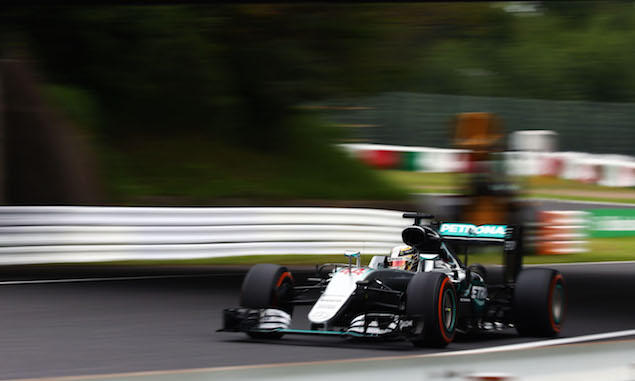 Lewis Hamilton admits he has yet to master the Suzuka circuit, but the Mercedes driver was pleased to enjoy a "good start" to his Japanese Grand Prix weekend.
Hamilton finished second to team-mate and title rival Nico Rosberg in both Friday practice sessions, as he ran smoothly and reliably across FP1 and FP2.
Despite taking victory in his last two trips to Suzuka, the Briton concedes the iconic figure of eight layout does not feature among his stronger suits on the Formula One calendar.
"Honestly, even though I've won here twice, this is not up in the top of my best tracks even though I love it," Hamilton said.
"I'm just not the quickest here for some reason but it's something I'm working at, and [in FP2] I was obviously a lot closer so it's just one step at a time and at the same time we are adjusting the car but there's just little bits here and there in different corners, apexes, turning points, braking points…
"It's a beautiful, beautiful track and getting the right flow and the right balance and utilising the tyres as well. But my Saturdays, if it's drier, are usually a little bit better than my Fridays so hopefully tomorrow will be better.
"We didn't have any problems on the car and just worked away on set-up. A bit like the last Friday that we had in Sepang, it's been a strong day, consistent. We've got a lot of data so we have to analyse and to work overnight but it's a good start."
Hamilton enters round 17 of that year's world championship on the back of a crushing engine failure in Malaysia last weekend.
Asked whether he was feeling confident with the power unit he is using in Japan, Hamilton says he is striving to push any doubts he might have to the back of his mind.
"When you get in the car you have to have 100 percent belief in your ability and the car and the guys and that you are safe.
"You don't ever put negativity in or 'what if', it's all about 'it will', so I believe that it will but I believed the last one would and it didn't, so."
REPORT: Rosberg edges out Hamilton as Ferrari shows pace in FP2
FEATURE: Silbermann says... Snapchat and soap in Suzuka
Chris Medland's 2016 Japanese Grand Prix preview
Keep up to date with all the F1 news via Facebook and Twitter