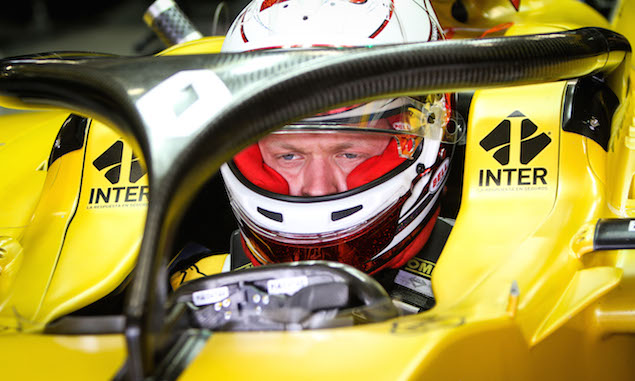 Kevin Magnussen says he is "not a big fan" of the Halo after testing it at the Mexican Grand Prix and believes F1 has bigger safety concerns.
A number of drivers tested the cockpit protection device during Friday practice in Mexico, with Magnussen getting his first running with the Halo fitted to his Renault. Asked what he made of the Halo after the test, Magnussen said: "Not a big fan.
"It feels weird to have something in front of you. It is like having a cap (with the brim) pulled down really far. You can see where you are walking, but you can't see anything else. I don't like it. The visibility is not as good as I hoped. So I think at tracks where there is elevation it is going to be a problem."
With Pascal Wehrlein sharing Magnussen's view but other drivers having different opinions, the Dane says F1 should be looking at other safety ideas.
"I'm sure we all have our own opinion, but my opinion is that there are perhaps other things that need to be looked at before something like a halo or a closed cockpit or a canopy screen or whatever.
"Tracks. Gravel in many places. What we have done with the Virtual Safety car when there are trucks on the track is very good. And anyway that accident with Jules would not have been any different if he had had a halo. So I think the halo would work in a situation if you had a wheel hit the head or maybe a nose cone, which is what happened with Justin Wilson.
"But in F1 there are other things that need changing before… I would have preferred in Spa to have gravel instead of tarmac run-off, because when you are going backwards and sideways for sure you prefer to have gravel. So I think there are other things we need to focus on first."
Chris Medland's 2016 Mexican Grand Prix preview
Scene at the United States Grand Prix
Keep up to date with all the F1 news via Facebook and Twitter